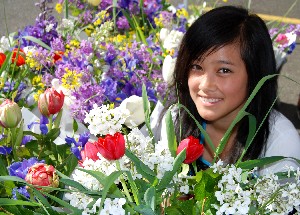 I love Easter.  It is my all time favorite holiday.  I just love the colors, and the weather is normally beautiful.  The crisp breeze against the warm sun always gives me shivers of delight!  But there comes a time when Easter becomes a hard holiday for teenagers to celebrate, mainly because nobody ever knows what to put in the Easter baskets.  When you think of little kids, you always think of little dolls for girls or action figures and Legos for boys, but what do you think of for teenagers?  Being a teenager, I think of clothes and gift cards, but a lot of dads don't want their little baby girl to grow up so they still buy the little girl stuff.  From what I've heard from friends, most grandparents are completely lost on what is "cool" to wear or even what stores their grandchildren shop at.  (I'm lucky, my grandparents know where I shop normally.)  Also, a lot of times when you think of gifts for teenagers you think of big things, not little things that would work for an Easter present.
So here goes; for boys, I would suggest getting a magazine about what they like, whether it's Sports Illustrated or Time.  If they have an iPod or some sort of Apple technology, iTunes gift cards work as well for $5-10.  But remember, guys are much harder to shop for typically, so don't be discouraged if you didn't want to get them a gift card and ended up having to.
For girls it is a much easier task.  Obviously, a cute t-shirt from Aeropostale always works, and if you can't find anything you think they would like, you can get them a gift card for that store, but clothes aren't always the only option.  If the girl you are shopping for is artsy you could get them an art magazine.  You can really do this for whatever they are interested in.  If they don't really have one interest, Seventeen is always a great go-to magazine.  Again, iTunes gift cards work.  Also earrings or rings or any type of jewelry will work if the girl is, well, girly.  If you are doing jewelry I would suggest buying from Claire's or Icing because that will ensure that the jewelry is in a good price range and that it is  pretty good quality.
I think you guys are all set to shop, so go get 'em!