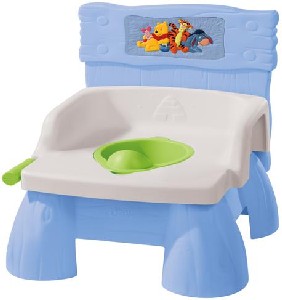 The First Years Disney Pooh Flush 'N Sounds Potty is a training potty for toddlers. It features the characters of the Hundred Acre Woods on the back. The chair comes in blue, but you can also find it in yellow. Depending on the store, it can run around thirty dollars.
The potty chair is actually three removable pieces. The little green center is where your toddler can actually do their business. The second part is a detachable seat that can go on the toilet if your toddler prefers the big potty, and the third is the chair, which converts into a step stool. Also included on the chair is a flush handle which creates the sound of a toilet flushing and speaks to your toddler.
The chair is pretty portable and lightweight, so you can put it in any room where your toddler hangs out. Most people prefer placing it in the bathroom, which works just as well if you have the space.
The center cup does have a little bit of a splash protection, but that is lip probably isn't high enough for the boys who sit down to urinate. This is because their aim isn't usually the best at that age. Furthermore, you might not want to use the detachable seat 0n the big potty for the boys as well since it will present a much smaller target area for them to wet in.
The best part of this potty chair is actually the chair that flips down into a step stool. This is one part of that will remain useful even after potty training. It can be used as a boost to wash hands or to provide easy access to the toilet. You will be using this very durable part until well after the other two parts are no longer needed.
If you are looking at potty chairs, the Pooh Potty has a lot of versatility. It lets your toddler become accustomed to going potty. If your toddler wants to use the big toilet instead, this will keep them from falling in. The step stool is something that can be used until sinks and toilets can be reached.
You should look for this item when it is on sale. It is an item that will still be useful even after they have learned the basics.
(CPSC photo)