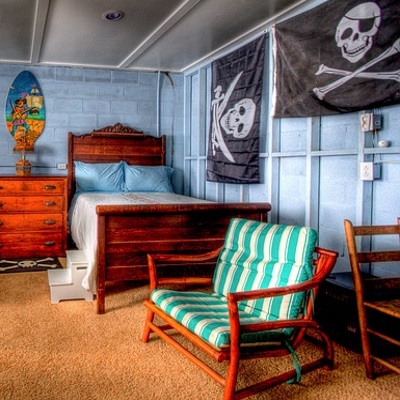 Being a teenager is tough, right? You have exams, friendships and relationships to contend with, and parents just don't understand. Remember what it was like? That's why it is important for teenagers to have a space they can call their own, somewhere they can retreat to and make sense of the world. A teenager's bedroom should be somewhere they can express their personality and be a haven away from the emotional pressures of growing up. Here are some cool decoration ideas to help your teen enjoy their space!
Wall Decorations
Encourage your teenager to choose the colors to paint the walls of their room, or if you feel you might end up with a room full of black or purple paint, have them choose some cool wall decorations instead. This could be a feature wall paper, or some sticker decals. There is a large choice of wall decoration to help you get inspired online.
Accessories
Brighten up a teen bedroom with some cool accessories. This could be fluffy cushions, a chic mirror cut to size or notice board. Don't forget the lighting! Fairy lights create a cozy atmosphere, or go for bright lava lamps for a retro look. Art work is always works to embellish a teen room, and a quick internet search should bring up some ideas. If you are buying art as a surprise for your teen, consult them and choose something that reflects their interests.
Of course, audio is a huge part of your bedroom accessories. When your teenager is hiding away in their room, they'll most likely want to listen to music. Graham Slee HiFi says that they have excellent taste in their sound system.
Fixtures and Fittings
The look of a room can be transformed by the fixtures and fittings. If you have the budget, fitted wardrobes really look smart and keep things tidy. Consult with your teenager to see what style of décor they like. For example, an industrial look can be achieved by having metal light switches, Venetian blinds, or a stylish radiator design, such as from warmrooms.co.uk.
Furniture
Furniture for a teen bedroom should be arranged so they can sleep, have fun and study. In small rooms, a bed placed along the wall doubles up as a sofa for friends. A desk is useful as a quiet area in the house where homework or revision can be done, and a wardrobe and set of drawers is needed to hold all those clothes! Shelving is also great for holding books, stereo equipment and for displaying special objects. Most teenage girls would appreciate a dressing table as somewhere to keep their make-up and jewelry. Do your research for some cool bedroom furniture ideas.
The key to great design for a teen bedroom is that it allows them to do all the things they need to do and have a place to chill out on their own or with friends, get homework done, and have space to put things that are special to them. That's why having a functional, yet cool, room is essential. A teenager's room is an extension of who they are, so let them be in control of the décor. A room they can call their own is something any teen would be thankful for.
Brought to you by our friend, Carol.