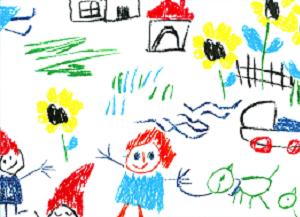 The Color Me Playhouse combines the idea of playing in a cardboard box with a child's love of coloring. Basically, it is a big cardboard box with a house design on the outside that kids can color and play in depending on their whim.
The Playhouse comes in a flat box. But don't let the size of the box fool you. The house that box makes is much bigger than it appears to be. In fact, you might be a bit surprised at the actual size. It is big enough that several children can fit in comfortably.
There is some assembly required with this particular playhouse. Mainly, it is folding the box into the right shape to turn it into the house. Thankfully, the main house is all one piece and just requires  folding down a few flaps. The roof is a bit trickier and the directions aren't quite as clear. But it is still doable.
The other additional pieces are the mailboxes and the chimney. Putting in the chimney helps the roof hold together even if it isn't quite folded the right way.
The coloring time alone will keep them occupied for hours. Although you might have to invest in some additional coloring supplies just to get the playhouse covered. That alone is worth the cost for this particular product.
Kids will love this playhouse. They will love running in and out, decorating the inside as well as the outside, and sharing this home with their friends. The windows and doors are functional and open and close.
Keep in mind that this playhouse is still just a cardboard box. So it will not withstand an assault from a juice box or water very well. Consider keeping all liquids out of the playhouse unless they are pretend.
The Color Me Playhouse is a decent substitute for a plastic playhouse. At around $17, depending on the store, it is well worth the price for the enjoyment kids can get out of it.