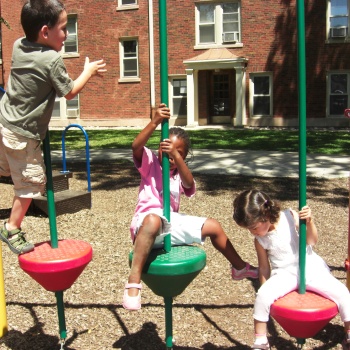 Thousands of preschoolers in the U.S. spend time at day care or with a babysitter. This is because in many families both parents work outside the home.  In fact, according to the Bureau of Labor Statistics, in 2012, both parents now work in 59% of families with children. And, unlike in years past, even newborns and preschoolers end up being taken care of outside the home.  Of course, the time spent in daycare or with a babysitter can be a positive experience, but parents must be wary of the safety dangers as well.  Read on to earn more about child safety in out of home care.
Day Care
One option for out of home care is day care.  In day care, children are watched as a group, usually in age appropriate rooms.  They eat together, play together, learn together, and even take naps near each other.  In these close quarters, several safety issues emerge, from injury to illness. As one can surmise, an inspection of a facility should be a top priority for parents in their quest to keep their child safe.
But what to look for? The Children's Safety Network (CSN) defines child care safety as, "…protecting young children from hazards and diseases in child care settings such as day care centers; child care homes; preschools; and before- and after-school programs." To help protect children, the CSN has developed a webpage to alert parents to possible safety concerns.  They state that playgrounds are a place where children are hurt most often in day care centers.  They also state, "other factors that contribute to injuries in this setting include:
Other children (pushing, throwing)
Furniture
Physical environment, e.g. radiators; glass doors; fences and gates; vegetation.
Toys
Bicycles and sleds"
CSN asserts that each state regulates out of home child care differently. Check out their website for more information on this growing concern.
In Home Babysitting
As an alternative to day care, young children may end up being taken to a babysitter. This type of care can also raise safety concerns.  In order to keep children safe, a parent must inspect the home and interview the potential babysitter. These are some of the questions to ask:
*Have you earned any certifications, such as CPR and  Safe Sitter?
*Do you own a pool? If yes, how is it secured so that my child does not drown?
*Do you own pets?  If yes, what kind of animals?  Will my child be exposed to these pets?
* How many children do you currently babysit?  What is your limit?
*Do you have experience babysitting young children?
*Will  you supply me with the names and contact information for three references?
These types of questions will help establish a person's ability to effectively care for a child.  If a potential babysitter bristles at being interviewed, then RUN!  Those that can do the job right and safely, will welcome all questions from parents.
Final Thoughts
A young child's safety is paramount. If out of home care must be used, then do your homework before leaving your child at a day care or a babysitter's home.