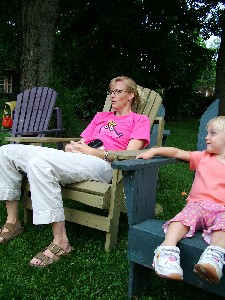 Even though Mother's Day is officially on a Sunday, most preschools will have some sort of celebration for Moms. Whether it is Muffins for Moms or some other theme, the one thing that all preschoolers want is for Mom to show up on this special day. Even if it means rearranging a work schedule or putting off appointments, you want to mark this day ahead in your calender.
Your preschooler will have been working on craft surprises, songs, and decorations with their teacher. This is one of those days that preschoolers are very eager for Moms to come. They want to show off what they made, their classroom, and basically want to play with you for that short time. For them, it is a very special time.
The most important thing is to be available for some Mommy time. This day does require some planning ahead. You will need to mark this day as important. But if you absolutely cannot be there, you need to arrange a female substitute to take your place. Grandma is usually the favored alternative. But an aunt or female friend will work in a pinch. The rule is absolutely No Males — but exceptions can be made if that is the only person available to attend. It is hard if your preschooler is the only child without someone in attendance.
A typical time frame for attendance on this day is about an hour. At the end, you may get the option to take your child home. Most parents will take their child home but some will let them finish out the day. It is up to you –  whatever is most convenient for you.
Mother's Day is a big deal at preschool. It is one of the few days where Mom attendance is required. Despite busy schedules and appointments, this is one of the times your preschooler is eagerly waiting for you to join the party.