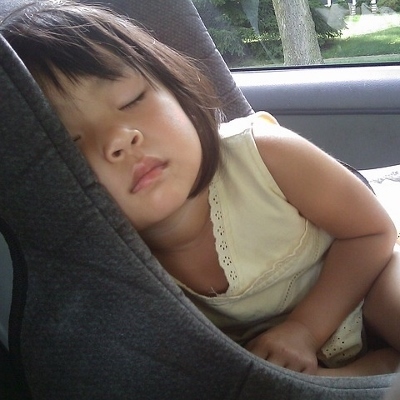 Just because your child is not a baby any longer doesn't mean they don't have to be strapped properly in a car seat when on the road. Advocates are pushing for new laws because young children are too small to be held in place properly when only buckled into seat belts.
The National Highway Traffic Safety Administration (NHTSA) notes that child safety seats save lives when used properly. When children are involved in vehicle accidents due to improper restraints, it's the leading cause of death in children ages 2 – 14 according to NHTSA. Check your state's child restraint laws here provided by the American Automobile Association (AAA).
It's best for preschool children to stay in forward-facing car seats as long as they can, however this will depend on the manufacturer's guidelines for weight and height. The LATCH system (lower anchors and tether anchors for children) is best when properly securing the safety seat to the car. When your preschooler has outgrown his/her forward-facing car seat, then it's time for a booster seat that may use the car's seat belt to hold it in place along with other safety latches and fasteners. States have different requirements, but some say youngsters should be in a car restraint-type seat until they reach 4-feet 9-inches in height and are well into their elementary school years.
In Florida, where I live, a new law was adopted for 2015 stating children must be secured in car safety seats through five years of age. And, they must ride in special booster seats until age six. This even includes riding in a taxi or limousine. Florida is trying to push ahead with child safety, but many other states have stricter laws. Some states require kids to be in safety seats until age eight.
The new Florida law makes the parents responsible for their children's safety. If a child is found to be not in compliance with the law the parents will be given points against their license, even if they are not driving, such as children riding in someone else's car. Why break the law and jeopardize your driving history when child safety booster seats can cost as little as $15.
Booster seats for preschoolers now come in kid-friendly colors, some even with cup holders. Make note that all car seats do not fit in all models of cars. Always check the company's guidelines to see if it fits properly by testing it in your car. Make sure to register your car seat after purchasing one. This allows the manufacturer to contact you in the event of recall notices or safety changes.