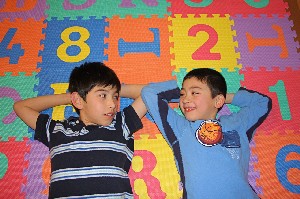 My son was bullied in elementary school by… his best friend. Sound like a strange situation? It certainly was a horrible time. The bullying wasn't physical in nature, but it still hurt my son tremendously.
It started out innocent enough. When my son was four years old,  he became friends with a boy the same age who lived across the street from his grandma and grandpa's house. Their friendship blossomed, and soon they became inseparable. They joined Cub Scouts together, they went to movies together, and they played baseball together.
Then, my son's friend began to grow in stature, and my son stayed small. Soon his best friend began to use his new found size against my son; however, I didn't know this at first.  There were warning signs, but I didn't pick up on them.  For example, my son began avoiding going to the boy's house.  Next, he proclaimed he didn't want to invite him to his birthday party, and finally, he began to have stomachaches on school mornings, yet felt fine once the school bus went on without him.  It finally dawned on me … something had changed in their friendship.
Thank goodness my child finally opened up to me about what had been happening to him.  He cried, and I cried.
But, what to do?  They had been best friends for four years, and we had spent a lot of time with this boy's parents.  First, I talked to my son's teacher about the situation.  She helped by changing the class seating arrangements, and she kept an eye on their interactions during recess.  Next, I talked to my child about the power that he did have — he had the power to change friends.  Finally, my husband and I had a conversation with the bully's parents. The agreed to monitor the situation as well.
In the end, my son and his friend decided to "part ways," but by then the bullying had stopped.  My child rebounded, and he learned at an early age that sometimes relationships can change; they can become toxic.  Most importantly, he learned that he did not deserve to be treated in that manner.
I know that as a parent of an elementary age child, you have been exposed to a lot of information on bullying, but don't forget, not all bullying is physical in nature.  It can also involve intimidation and other forms of emotional abuse.  As always, if you have a "bad feeling" that something is bothering your son or daughter, take the time to find out what the problem is.  If it is bullying, don't avoid the problem, face it head-on, and your child will once again be safe and happy.
Bullying Statistics:
Nine out of 10 elementary students have been bullied by their peers, says a questionnaire developed by researchers at Lucile Packard Children's Hospital and the Stanford University School of Medicine. In addition, nearly six in 10 children surveyed in the study reported participating in some type of bullying themselves in the past year (Science Daily, 2007).