When your child starts to show interest in books, the best thing that you, as a parent, can do is to encourage him. It is usually at the age of three that most children begin loving books. One very good way to build a strong bond with your child is through storytelling using books. It will get him acquainted with the joys of reading at an early age. Reading with your child does not mean that the two of you really go through real reading. You should not be bound by the words on the pages, you do not have to read the book to tell a story to your three year old. Use the pictures in the book as source of conversation, something that will lead your child to talk about his views and to learn more about the world.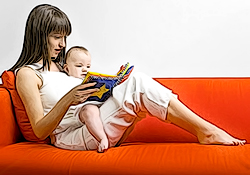 It is normal for children to want to hear the same story many times; they even get to memorize their favorite stories after hearing them a few times. When your child has memorized a few stories, it is good to let him "read" the book. Your child surely will love the chance to "read" the story to you; he will be happy to show you how much he knows. When he sees that you appreciate his knowledge he will love learning even more. Children who are encouraged to learn early will never stop learning throughout life. A good technique in helping your child "read" his favorite story book to you is by asking him about the pictures in the book, by asking questions about the characters. At first, ask simple questions that start with "what" and "where". Then when your child has built enough confidence in answering questions try asking some "why" questions. Don't be surprised with his answers to your "why" questions. You'll find out that at the age of three or four your child has so much knowledge already stored in his head that shape his views.
Reading with your child is one good way to learn more about him and about how you fare as a parent.