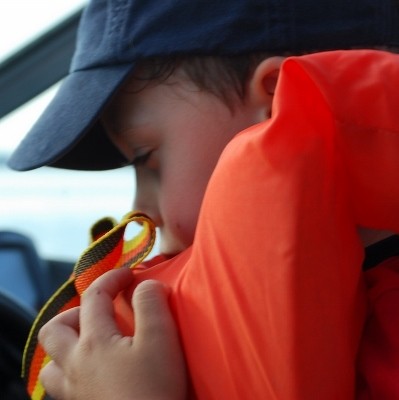 With summer in full swing, tweens will have more opportunities to have fun on the water.  Because of this, they should be taught boating safety rules. Why? The Centers for Disease Control and Prevention (CDC) states that approximately 347 people die each year in boating related incidents, and countless more individuals are injured. Of course, if you or your tween will spend time on a boat, online cpr training would have untold value.
And remember, even if you don't own a boat, your child may be invited on a friend's boat.  
First, every tween who climbs aboard a boat should be fitted with a coast guard approved life jacket. The jacket should fit properly, and it should be secured around the child's body.  Safe Kids Worldwide recommends  "…kids make a "touchdown" signal by raising both arms straight up; if the life jacket hits a child's chin or ears, it may be too big or the straps may be too loose."
Next, tweens should be taught how to swim.  Children who cannot swim have a greater chance of drowning, so they should know a few swimming basics.  Safe Kids suggests that they know how to tread water and how to float. Local YMCA's and community pools usually offer lessons for reasonable prices.
However, knowing how to swim does not mean that a tween doesn't need to wear a life jacket! Swimming aids, such as "noodles" and "water wings" should never replace life jackets either.  I can't stress enough – age/size appropriate life jackets are a MUST.
Another safety tip involves staying warm while on a boat.  Even the warmest summer days can be followed by cool evenings.  A tween who has wet clothes on and becomes chilled in the night air may suffer from hypothermia. Teach your child to dry himself fully, and provide him with extra clothing, such as sweat pants and a sweat shirt.
A child should also be taught proper boating behaviors.  For instance, horseplay should be discouraged, as well as jumping, running, wrestling, and the like.  Each type of water craft is different, with some boats large and some boats small in size.  This means that a tween should be familiar with and respect each variety he or she will come in contact with.
Finally, the adults on board the boat should know all boating safety rules. Know the answers to the following questions before your tween boards the craft: Has the driver taken an approved boating safety course?  Will the driver and the other adults on board refrain from drinking during the outing?  Is someone on board trained in CPR? How many people will be on the craft, and how many was it designed to hold?  Will the boat return to shore before dark?
Tweens should be allowed to experience the great outdoors in the summer, including taking rides in motor boats, canoes, row boats and other water craft.  Spending a summer day on the water can be great fun; however, that fun comes with a price…learning how to stay safe, free from water related injury.
For more information on boating safety and children, follow this link.