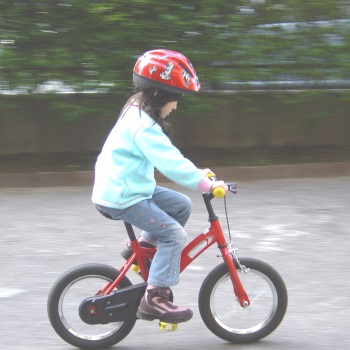 Eventually, your preschooler will want to find independence in riding a bike. While you may still have the training wheels on at this point, it is still important to stress staying safe while on a bike or on a tricycle. These safety rules need to be enforced every time that they get on. Of course, they still need adult supervision even with their safety gear.
Helmets
Bike helmets are an important safety item. The big trick to ensuring that your preschooler wears it is to make sure it fits comfortably. Make sure you try on the helmets first. The sizes are merely a guide and your preschooler's head size may be different than the recommended age group listed on the helmet. While there is some adjustment available in the helmets, it is crucial to make sure that it fits first.
Safety Class
Bike safety classes are available to preschoolers. In them, your preschooler will learn the basics of staying safe. Stickers or coloring books are often available as reminders. These programs are run by different organizations such as schools or police departments. You will need to check in your area if such classes are provided. They are great programs to take your preschooler to for more practice on riding safely.
Knee/Elbow Pads
While knee and elbow pads aren't required for your preschooler to ride a bike, they do come in handy for when they fall off of it. Your preschooler will eventually run into something, turn way too fast or accidentally tip the bike over. Accidents do happen when learning to ride. This will help prevent the worst scrapes.
Enforcing the Rules
There are certain rules that must be followed and that you must enforce for your preschooler. The first is that they cannot ride their bikes alone. They should always have someone with them even if they are just riding next door. Other rules to enforce are not to ride their bikes on the road and to always look at cars in driveways to ensure that no one is backing up. It is important to remind them of these rules every time that they want to get on their bikes.
Your preschooler will eventually learn to ride without the training wheels. Enforcing these safety rules at an early age will get them in the habit of riding their bike safely when they get older.