As parents, my husband and I have had a few discussions about allowances.  To me, they always have seemed problematic.  If you simply give your child money, it seems that he would learn to expect that money be given always.  If you attach the allowance to chores, your child can choose not to do chores that you expect to have done.   Therefore, we have created our own system, which is working nicely with our tween-aged children.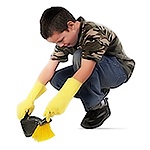 First, we have created a list of chores that are expected to be done without pay, simply because they are  members of our family.  For every household, these chores could differ, but in our home, they are: emptying bathroom trashcans on trash day, taking out or bringing in garbage cans on trash day, putting away silverware after washing, putting away own laundry, bringing dirty laundry to washer.
Second, on a weekly basis, I create a list of other chores that I need to have completed and that can be done by our kids.  These include (but aren't limited to): sweeping floors, sweeping the garage, dusting furniture, vacuuming rooms or sets of stairs.  Once the list is ready, the bidding begins.
Here are our rules for bidding:
If a bid is deemed too high, it does not have to be accepted by the  parent.
Once a bid is accepted that child needs to complete that chore before returning to play, etc.
A chore is determined to be complete by the parent.  Poorly done chores need to be redone.
A child receives pay for chores once all of her chores are completed.
Bids must be made in 5 cent denominations.
In addition to earning money and having a clean house, this system has other advantages.  Our children have learned the value of money.  Through bidding too low for a chore and completing work, they are gaining a better understanding of what things are worth.  They also are learning to take initiative.  Although I complete the chore list, they have made suggestions for other chores that they could complete, which helps reduce our (the parents) workload and provide more income for the kids.  Finally, they are learning to manage time.  Although, one child could try to offer low bids on all chores, it would take a greater amount of time.  Typically, they find a way to bid so that they receive a similar amount of work and/or money.
Bidding for chores has solved our allowance dilemma, providing some extra money for the kids and some extra time for the adults.  It has been a win-win in our home.