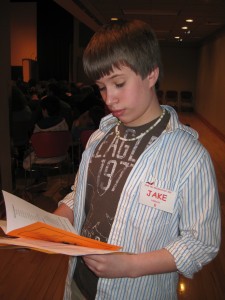 Last week, one of the articles on Your Parenting Info, To Coach or Not to Coach, discussed the importance of being involved in sporting events with your children.  The conclusion the author drew was that whether you coach or not, your presence at your child's sporting events is important.
This article led me to think about the importance of being a special someone in your child's life, no matter what the event or reason.  I had witnessed this the previous week when my almost 13 year old son competed in state finals for the geography bee.  Although a little nervous, he had confidence because he knew he had support from many.
When we learned that my son would be one of the 100 finalists for our state, he didn't ask whether I would attend.  He just knew that I would.  Granted, I have the benefit of working from home, but it is a full-time job.  He knew that it meant that I would have to do work over the weekend and at night, but being there for him was important.  Similarly, he knew that my husband would take the day off from work to support him.  To his further delight, our best friends both took the day off from their jobs to join us.  And as the event took place an hour away from our home in the middle of the day, it meant devoting an entire day to his event.  We all did this gladly.
By showing our support for him, my husband, our best friends, and I let him know that he has a whole group of someones on which he can rely.  Whether it be to cheer for him in a moment of glory or listen to him in a moment of trouble, he has our support.