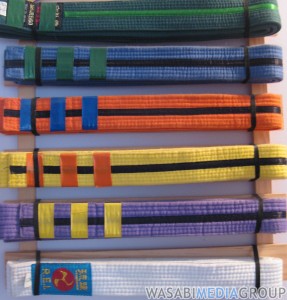 Danny White with AnointedFighter.com has decided to take the best of two worlds, martial arts and religion, and combined them into a very unique system called ChristJitsu.  The lessons and life principles of the Christian faith now have the excitement and recognition system of the martial arts world.
ChristJitsu plays on the popularity of martial arts, especially mixed martial arts and their Brazilian Jiu Jitsu.  Relax parents, kids won't be learning to prize fight in a cage.  Instead, Danny claims they will be learning to fight in the cage of life.  ChristJitsu translated means, " the way of Christ."  The students will be learning important life lessons founded on the humility of the Christian faith.
Anointed Fighter and Martial Arts Ministries have created a belt system for kids (and adults) to learn and study the concepts normally taught in church.  The main difference is that there is no choir, no pews, no stand-up/sit-down routine, or any other stereotypical Sunday school routine.  In ChristJitsu there is a curriculum that is designed exactly like any other belt system.
This brand new system offers advancement from white to orange belt and then to yellow all the way up to Black Belt.  Their curriculum gives kids a goal.  They will have to persevere to learn verses and books of the Bible to advance.  It is all at their own pace and online.  There is no need to drive your son or daughter to another class or practice and no more need to argue with them to go to church.
The American culture really has embraced the martial arts over the past twenty years, and the popularity is growing more each and every day.  There are martial arts schools in almost every city and for good reason.  The arts are structured and focus on discipline.  Practicing martial arts teaches kids they can achieve whatever they put their minds to.
Go to www.ChristJitsu.com and get started on the path to Black Belt.  This is a great activity to do together with your children.  Here is your chance to set the example we are always going on about.