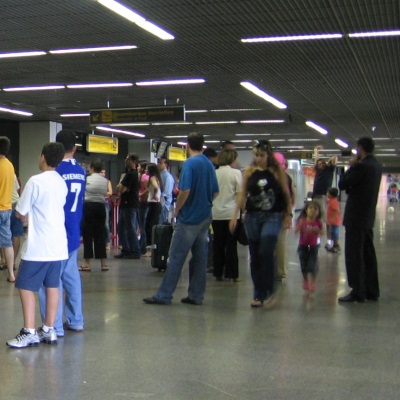 Air travel brings us to exciting destinations for summer vacation.  While the destination may be pure joy for your family, the actual day of travel can be stressful, scary, and downright dangerous, especially if you are traveling through unfamiliar territory with young children.  Here are a few tips to help keep your kids safe and yourself sane on the way to grandma and grandpa's house, or wherever your summer travel may take you.
Bring Gum – The change in air pressure on takeoff and landing can be irritating to adults.  It can be downright torturous to young children.  The action of chewing somehow alleviates the symptoms.
Explain, Explain, Explain – Talking about the process with your children in advance will make the security process go so much more smoothly.  Your daughter's natural reaction may be to balk at handing over her Hello Kitty backpack stuffed with her personal treasures to some stranger at the airport.  During a conniption fit in the middle of a long line of weary travelers in front of the X-ray machine may not be the best time for you to start explaining the security process.  Explain it to her in advance and she will have an easier time of things at the airport.
This is Serious – There is an episode of Sam and Cat – an awful show that my kids love – that involves a misunderstanding at the airport and a character running through security yelling "I've got the timers for the Bombs".  If your children have seen that, or any such similar scenario, they need to be aware that reenacting the scene at the airport will not be taken lightly by security.  Any jokes along those lines – even if they think no one else will hear – need to be reserved for another time and place.
Stay close – The best thing you can do to keep your children safe during the whole process of air travel is to keep them close.  There are so many new things to see and do at an airport with all its gift shops and duty free zones and multiple food courts that kids can easily become distracted and want to wander off.  Parents, feeling stressed by the pressures that come with air travel, often find themselves focused on finding the right gate and lugging bags and a thousand other details.  The combination of distracted kids and distracted parents can be extremely dangerous.  Make sure your children understand the importance of sticking close and force yourself to keep at least one eye on the kids as you go.
Go Early – Allow yourself plenty of extra time when traveling with the kids.  Extra bathroom breaks, trouble getting their shoes back on after security screening, and little legs mean that you cannot zip through the airport to your gate with kids as quickly as you can when traveling alone.  Get to the airport extra early and you can avoid stress and get your trip off to a safe and pleasant start.