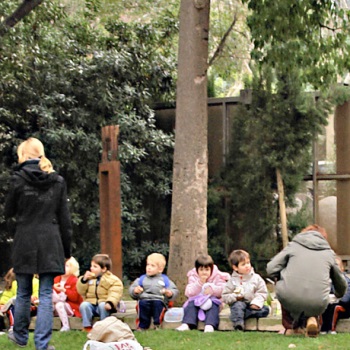 A preschool is a good way to transition a child who is accustomed to being at home to a more structured environment with other children and adults. A positive preschool experience will help a child feel more confident when entering kindergarten.
A responsible preschool will have a safe environment for young children. The area inside and out should be "child-safe" to accommodate a three-year-old. All equipment should be undamaged and inside toys should be clean. The preschool should have a written policy regarding monthly fees and additional costs for field trips. Hours of operation should be posted with explanations about fines if a child is picked up late. A written nutritional policy for snacks should clearly outline dietary restrictions to accommodate children at the center with allergies.
When filling out an application form, a parent or caregiver should highlight issues related to their child. Is the child shy? Is there a language delay? Does the child have allergies? Can the child use the toilet independently?
Choosing a preschool is an important and challenging decision. In an urban setting, there can be many kinds of preschools including parent participation, community based and Christian or other faith supported schools.
A faith based preschool tends to be associated with a larger religious organization. The teachers actively participate in the religion and the curriculum reflects the beliefs of the faith. For parents who adhere to this religion, it can be reassuring to know their child will have a consistent message at home and at school. One disadvantage is that answers to children's questions tend to be framed within the philosophy of the faith. For example, where do flowers come from? Flowers come from God. Some parents would prefer a more scientific answer.
In larger communities, a few preschools are attached to community centers. The child is dropped off and picked up a couple of hours later. This arrangement is good for parents who want to do a fitness class or socialize with other parents. Due to financial restraints, these programs tend to have few frills such as field trips.
One popular option for preschool is parent participation. To enroll in this program, parents make a commitment to participate as a classroom assistant for one duty day per month and attend regular meetings to discuss management of the preschool program. One advantage is that many parents want to be involved in the child's preschool experience. Also, it is a chance to meet other parents and discuss parenting issues. Unfortunately, for parents with younger children, it can be challenging to meet their obligations for the duty days. Furthermore, for parents who work shifts, it can be hard to attend the monthly preschool meetings.
For a parent, it is important to take the time to visit a few preschools to decide which program is appropriate for your child and works for your family. Parent participation, community based or faith based preschools are possible options in an urban area, which one will you choose?