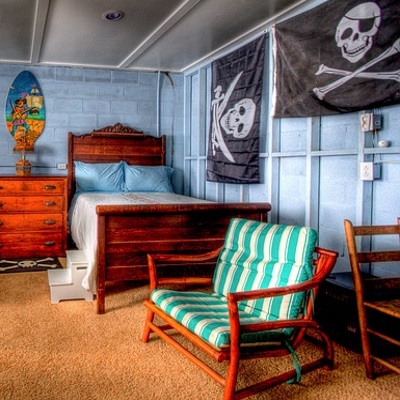 I remember my bedroom as a teenager very well. I collected magazines for months, cut out only the choicest pictures, and covered every inch of every wall! The placement of these pictures was not random, it had a cohesive flow, and told a story with everything from Lost in Space to Johnny Carson, and yes, I realize I am dating myself!
I loved that I had a space of my own to do homework, put on makeup at my vanity, or just be me in my pajamas! I also realized how fortunate I was to have that space, since most of my friends did not and had to share a room with siblings.
I guess that is why I am glad that I can give that to my children as well. I have two sons ages eight and thirteen, and they not only have their own rooms, but also their own bathrooms, which is both a blessing and a curse from a mom's point of view! I have to remember what a sanctuary my room was from the world and the pressures of being a teenager. Today's teenagers have much more to deal academically, physically, and socially than I ever did.
I encourage other parents to let their teens be creative when it comes to decorating their room with color and perhaps a theme or their very own original creation, even including curtains for bedroom windows. Completing such a project builds self confidence and gives your teen a real sense of accomplishment. Now I don't know about any other parent, but I want to be the house that my teen's friends want to come to and hang out at (and yes I do in fact have an ulterior motive )! As a parent, I want to know who my teen hangs out with and what kind of influence they are on my teen, as well as what kind of influence my teen is on them; remember, it can go either way, negative or positive.
The bottom line is I want my boys to have a place they can call their own and want to spend time in. There is so much brouhaha about keeping kids active, ALL THE TIME, and I disagree! We have to teach our kids that it is okay to be still and alone sometimes. Spending time in your own room, reading, listening to your favorite music, doing homework or sometimes even taking a good old fashioned nap is a refreshing part of life to be enjoyed.
With that being said, everything of course in moderation, after all you don't want a complete couch potato! I have also found that my teen son is much more open to sharing the goings on in his life, as well as things he may be struggling with, in his own carefully crafted environment. We have spent many evenings conversing about life, social issues, dealing with hormones and hurt feelings as well as growing pains, so if it is possible, help make your teen's bedroom a place where good memories are made, and hopefully the clothes make it into the hamper!