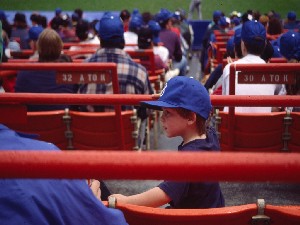 I got an unintended reminder this week that I thought I would pass on to you. I recently took on an assignment as the Staff Reporter for a local UIFL Football team, the Lakeland Raiders. I'd been bringing my 11-year-old son along with me, thinking that he'd get a thrill out of being around real professional football players playing real professional football.
Although less enthusiastic than I had hoped, young Max tagged along with me to practice and the pre-game walkthrough. Then came game day. I expected Max to be feverishly excited about the game. He was very excited, but not about the game itself.
As I grabbed my ubiquitous notepad and pen (yes, I'm old school) to leave the house, Max came trotting out of his room with a similar set. He wasn't excited about going to the game because he wanted to be like the athletes. He was eager to go because he wanted to be like me.
I held back the lump in my throat all evening as Max dreamed up interview questions, interviewed players and fans, and took copious notes. Only the lateness of the hour (I finally turned in my article around 1 AM) prevented him from staying up to assist with the writing itself.
Better than the job itself, better than watching the game or being part of the Raiders staff was the joyous reminder that I don't need to go out and find heroes and role models for my son. I just need to be one.