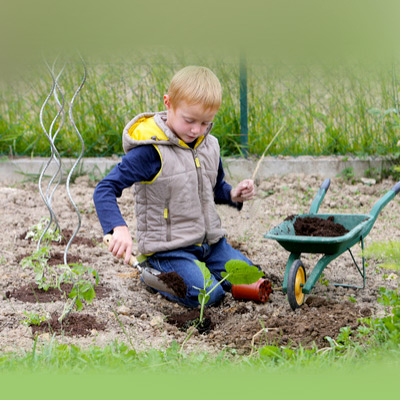 Getting kids outside and immersed in nature is beneficial for a number of reasons. Firstly, being outdoors is known to help boost creativity and wellbeing for a healthy mind, plus it helps them appreciate their natural surroundings and how to take responsibility for the world around them. In schools, outdoor areas are used to help promote interactive learning and supports classroom-based studies to help improve productivity and understanding. So if you're looking to get your children more involved in nature to support their development, take a look at these ways to make being outside fun.
Drawing activities
Art and crafts don't have just to take place indoors, as you can bring the creativity outside by encouraging kids to draw or paint their favorite flowers. This activity is excellent for helping kids to identify different colors and patterns, plus encourages them to share this experience with others.
Create a garden
Having a dedicated spot that children can learn to look after is great for getting them involved in nature. You can incorporate a range of areas such as water features aided by oase pond pumps, which creates a calming and inspiring element to a garden space. If you want children to learn how to grow plants and vegetables, making a small patch where they can plant seeds, and bulbs is ideal for giving them something to take responsibility for.
Encourage minibeast discoveries
There's nothing more exciting for kids than mini projects and making new discoveries so helping them spot minibeasts in the garden is a great way to bring them closer to nature. By looking at different types of bugs, spiders, and worms, they will start to understand how each little creature is important to the area around them. You can also introduce homes to encourage nature into your garden such as hedgehog, butterfly and bird homes.
Go for a walk
A great way to get kids outside is by just walking around your local area. There are plenty of places to play and be inspired by the outdoors such as community spaces, nature reserves and larger National Park areas. Not only does this get them exploring nature, but it also encourages regular exercise.
Use technology
Many children are often glued to their computers, tablets, and smartphones so if you have trouble getting them off their screens, then why not use this to your advantage. Suggest they bring their phone or camera on a walk and use it to take pictures of different plants and creatures along the way. This then brings them outside without too much focus on the digital world.
Fruit Picking
Picking your own fruit is a great activity especially for younger children. Encouraging children to pick delicious looking fruits and vegetables will help them to become excited about eating their picks and help kids to understand where food comes from.
These are just some of the interesting ways to get kids involved with nature and exploring the world around them. Why not give them a go to make outside play fun this summer.
Brought to you by our friend, Carol.