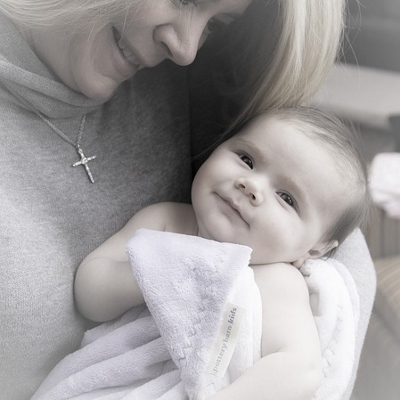 Summer is a great time to be outdoors with your little one, but sun exposure can be harmful to a young baby. But don't worry, you don't have to spend your entire time indoors. With a few special precautions, you can enjoy a bit of time outdoors, even if your little one is still too young to use sunscreen.
1) Avoid peak hours – You want to make sure your young baby is not out in the sun during peak hours where just a few minutes of sun exposure can burn sensitive skin. Try to keep them out of the sun between 11 am and 2 pm. During this time, if you are going to be outdoors, stick to shady areas or stay under a tent/tarp.
2) Keep covered – Even if it isn't peak hours, you want to make sure you keep your little one covered up. It can be a difficult balance of keeping baby cool and covered, but wrapping up in a thin muslin cloth or keeping lightweight onesie on at all times can add an extra physical layer of protection without causing your little one much discomfort.
3) Sunscreen – If your baby is older than 6 months, there is no reason not to use sunscreen. You should put on a protective layer every time you leave the house and apply frequently. Even if your child is lathered up in sunscreen, avoid extended sun exposure unless absolutely necessary. There are plenty of sunscreens on the market geared to small babies that are well tested and safe.
4) Hats – A sun hat is key to protect your little one from the sun. You won't be able to get a good pair of sunglasses on those little eyes, so make sure you get a good quality hat you can make sure stays on (one that ties under the chin is great). You want a hat with a brim that goes all the way around, so you also protect the back of your little one's neck. Alternatively, you can get a cap with an extra piece of fabric that protects the neck.
5) Sun protection clothes – If you are planning a beach vacation, one great way to protect your little one is with clothing with built in SPF. These items can be a bit expensive, and are often a bit thicker and rougher than cotton, but they will provide maximum protection. Get a long-sleeve shirt and a pair of pants to ensure that your little one gets minimal sun exposure.