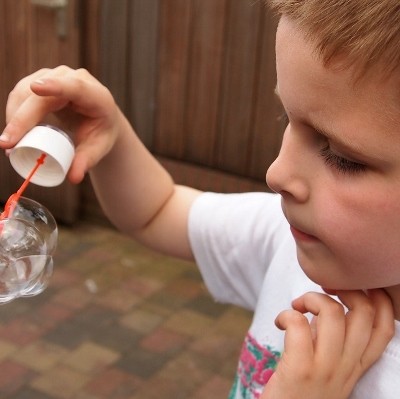 As rain showers start to become a daily occurrence, preschooler's boredom levels skyrocket. Without time outside running and playing, most kids this age start to act out and drive everyone up the wall. Luckily, you can introduce a few fun indoor activities into your preschooler's life to drive boredom away once and for all. The following five indoor activities take very little time to set up or clean up after playtime.
Window Drawings
Although you can draw on window glass with shoe polish, it is hardly non-toxic and a true nightmare to clean up. Instead, have your kids use specially made dry erase markers designed for application on glass. You can instruct your kids to draw pictures of their families, favorite animals, vehicles, landscapes or let them freehand their own creations. When your kids are done drawing, the pictures easily wipe up with a damp rag. Or you can leave the artwork and consider it to be awesome window curtain ideas.
Sink Bubbles
Fill the kitchen sink with bubbles and your kids will want to play for hours in the soapy water. Gather up a collection of fun tools, like a turkey baster, teakettle, bowls, cups, spoons, bath toys and anything else you can dream up. You can even let the kids rewash plastic tools and dishes to play the role of homemaker during pretend games. When the fun is done, have your kids rinse and dry their toys and tools to clean up.
Bottle Bowling
Bowling with recyclables allows kids to learn the value of reusing objects in their environment while having a blast scoring the most points. Your kids can start by constructing their own set of bowling pins out of empty one-liter bottles and sand. Once they set up their ten pins, they are ready to knock them all down with any ball they have on hand. If needed, your kids can make their own bowling ball out of newspaper wrapped in tape.
Cardboard Robot
Preschoolers absolutely love to transform cardboard boxes into cars, trains, spaceships and so much more. You can harness this activity by introducing cardboard robot construction projects whenever new boxes come into the home. You may need to help your kids cut out arm, leg and neck holes in the boxes before setting them loose on the decorating phase. At the end, judge the robot on a variety of criteria, like function and design, to challenge your kids to continue to beat their top scores.
Homemade Memory
The game of memory is a lot of fun for preschoolers to master. You can up the ante of this fun game by having your kids create their own game pieces. Cut out 12 to 24 cardboard squares and instruct your child to draw pairs to match later. After the game is complete, you can offer a variety of fun timed challenges to keep your kids playing this game for hours. Your kids may also want to add pieces to the set on a regular basis.
Dream up new games for your preschooler as much as possible to keep boredom from overtaking the household. You can even ask your kids to participate in the game creation process as another fun activity.