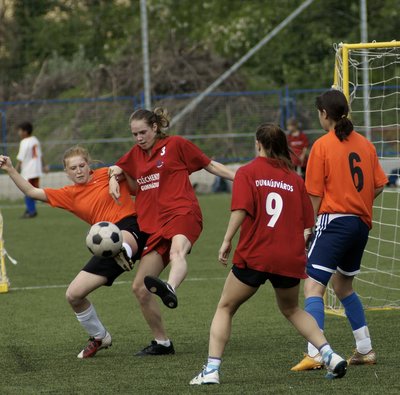 Getting a teen to live a healthy lifestyle is one more of those things that take a village. It takes more than just parents, anyway — though your example is a strong influence, your teen is likely too intent on becoming an independent person to let that show. (That's why they'll eat a huge bag of sour-cream-and-onion potato chips in one sitting — that, and the fact that the silly things just taste good.) So here are some "villagers" you can call in to help you lead your teen to healthy living.
Organized sports. As long as it's a sport your teen has chosen freely and enjoys, sports are a great motivator to eat right, exercise, and avoid smoking, drugs, and alcohol. In fact, the National Institute on Drug Abuse notes, in one of its 6 Tactful Tips for Resisting Peer Pressure To Use Drugs and Alcohol: "no one would argue that a hangover would help you play your best." The same goes for cigarettes, junk food, binge gaming . . .
Coaching programs. You might want to think about bringing in a healthy living coach for the whole family. The "bringing in" can be done digitally on mobile devices to make it extra convenient. Kurbo Health, a program that matches families with professional and world class athlete/coaches, costs $85 a month and is covered by many health plans. As the company says, "Athletes in training for world-class competition have a unique ability to motivate children, and often have an intrinsic desire to help young people achieve success."
Friends. Yes, peer pressure can work in a good way too, for example if your teen has a friend who needs an exercise buddy (or even a designated driver). Friends may even want to role-play turning down unhealthy choices, if that may be an issue.
Let's finish up with some good news for parents: NIDA recently reported "Most substance use among teens is dropping; much of it reached the lowest levels since the annual survey began more than 40 years ago." (Marijuana use is another story — but I think that shows how the larger society, which has become so much more accepting of it, influences teens.) So you're not taking on the world in trying to keep your teen from substance abuse — most of it is on your side already.
That leaves you time to do the positive things, like living a healthy life yourself, that will benefit your teen and the whole family.