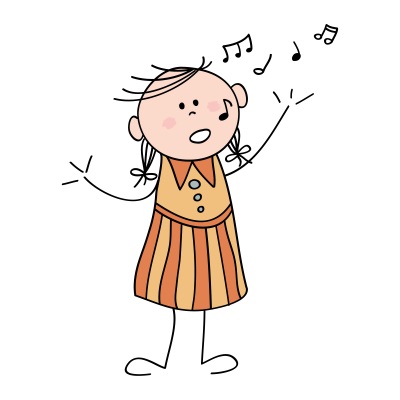 Learning the alphabet needs to begin early in a child's life and the easiest way to teach a skill is though music and fun activities. Singing is an easy and entertaining way to promote good language patterns as songs contain repetitive sounds and young children can understand sentence structure through singing phrases. It is also known that music offers unique possibilities to expand and extend vocabulary. Make learning the alphabet fun for toddlers with combined music and movement activities. Try these fun activities to get the little ones moving, grooving, and singing.
The Alphabet Song
Start simple with the ABC song. "The Alphabet Song" is actually sung to "Twinkle, Twinkle, Little Star." Point out to children not to blend the letters L, M, N, O, P, but to sing them separately and distinctly. Once your toddler has mastered the first tune, branch out and try singing the alphabet to "Baa Baa Black Sheep", "Row, Row, Row Your Boat", or another song they select. It's amusing how young children can sing the classic alphabet song but cannot recite the letters alone. This will come at a later age. Most important now is to learn letter sounds.
Bring out some rhythm instruments, such as drums and tambourines, to add rhythmic beats to their songs. Simple drums can be pots hit with a wooden spoon. You can easily make musical instruments with your child at home. Think about coffee can drums and filling plastic water bottles with dried beans to shake.
Sing Along To A Story
The classic book Chicka Chicka Boom Boom by Bill Martin Jr. and John Archambault is a rhyme/chant telling the story of the entire alphabet as the letters climb up a coconut tree. This book has been a favorite with children and there are musical versions on CD and DVD. YouTube has a few versions too!
Alphabet Ball Movement
Children have a natural instinct for movement, and thus jumping, hopping, throwing, and such are important for your youngster to develop his large motor skills. Draw letters on an inflatable ball with a permanent marker. Play some lively music and invite your child to toss the ball back and forth. When the music stops, help your toddler say the alphabet letter in front of him.  Another version is to draw simple pictures on the ball, such as the sun, tree, apple, bug, etc. and when the music stops, invite your child to name the picture and possibly the alphabet letter it starts with. This game is sure to be a fun bonding experience and a way to get the wiggles out.
Always make learning a fun experience for young children. Use songs throughout the day as you engage in daily routines. Every time your child hears or sings a song, it stimulates interest in letter sounds and the alphabet. As you and your little learner participate in alphabet activities, the combination between listening skills and creative songs will establish the bridge to pre-reading.