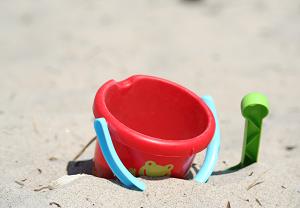 The bucket and the shovel are one of the most versatile outdoor toys available on the market. These plastic creations are very affordable and offer a lot of bang for their buck. The best measures of a toy are how long they keep kids entertained and how hard it is to break them. The bucket and shovel pass both measures with flying colors.
From castles to tunnels, the bucket and shovel unleashes a child's imagination. Digging into sand is a childhood enjoyment. Add in the bucket and shovel and you have a recipe for fun that can last for hours. Add in a little water and you have a recipe for one very muddy but very happy child. Of course, it is far easier to clean the toys than the child.
They are certainly a necessity for going to the beach as any child will tell you. Sand castle creations are only limited by the sand, the bucket, the tide, and how long you stay at the beach. But even after the tide takes one castle out, the children are certainly eager to start over again. A child with a bucket and shovel at the beach is one of the most picturesque photographs that get passed around.
The sandbox is one place where kids find interaction with each other. There is a mutual shared joy in the art of moving dirt, digging their way to China, and building castles for dragons to destroy. For new kids, this is one way to discover new friends. It is a shared interest. Although with public sandboxes, you have to look out for other little, unpleasant surprises that can wind up in there.
The bucket and shovel are toys that are easily manipulated by toddlers. They aid in gross motor skills where the child learns to use objects. It also gives them outdoor playtime in which the sun is so important for development.
There are a couple of rules for playtime with the bucket and shovel. The first is no hitting each other with the shovel or bucket (though their lightweight nature makes it so that it won't hurt). The second rule is more about throwing the sand around and emphasizing the importance of not getting it in eyes.
The bucket and shovel are very easy for parents to clean with a simple rinsing out of the sand or mud. If you want to disinfect, bleach will not hurt these items. They are readily available at any store and are usually seen on sale right around the end of summer or beginning of spring. They come in different sizes and colors. Because they are affordable, they can easily be replaced if lost or the toys get left behind.