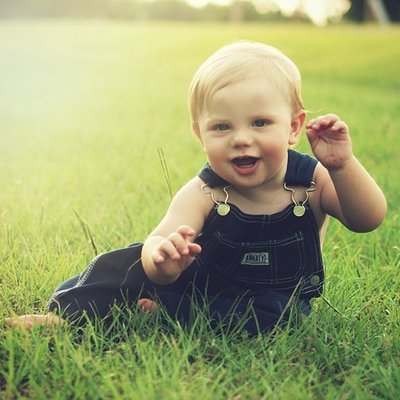 Toddlers may be too young to literally understand Earth Day, but they have all the characteristics of a dedicated ecologist. They are naturally curious, eagle-eyed, and absorb experiences so quickly that it may be considered sponge learning. So, take advantage of your toddler's curiosity and their innate senses and explore the outdoors together.
Some of the best activities to engage with your toddler cost nothing. Play follow the leader and walk around your yard. Touch something that is sun-warmed, and then touch another object in the shade. How do they feel? Dip your fingers into a bucket of water and wave them in the air until they dry. Toddlers love water play, so this may be one activity they may not want to leave. How about touching a velvety smooth flower compared to a rough tree bark. Which one do they like best?
Lie down on the grass and listen to nature's noises. Can you hear the leaves swishing back and forth? Can you hear the birds chirping? What other sounds do you hear?
Reinforce observation skills by staging a small scavenger hunt. Make a list of easy objects to find and play this game together – maybe with a friend or two. Remind the children to point versus picking it up, unless supervised by an adult. If it's litter, think about gathering the finds and placing them in appropriate collection containers. This teaches young children to not throw objects out on the ground just like you don't want the kiddos to throw toys all around the house. Learning to clean up is an important task toddlers need to develop. For the game, ask the children to find: something soft, something shiny, something bumpy, an interesting stick, something round, a seed or maybe a feather. The list is endless, so use your creativity on this activity.
Sit on the ground together and play in the dirt. See if you can provide dry sand and moist dirt for your youngster to compare. Let her run her fingers inside the soil and even squeeze the soil inside her hands. Compare and contrast how this looks and feels. You may want to fill a container with this dirt and plant a bean or seed. Toddlers love to watch their small garden grow. Yes, it's dirt, but the earth will not harm your child. A little soap and water will take care of that at the end of your play date outdoors.
After all hands have been washed, plan an outdoor snack. Take a piece of fruit and really observe it with all your senses. For example, take a strawberry and tell your toddler to check it out carefully. What is the color? Is it smooth or bumpy? How does it smell? And lastly, how does it taste? If this is fun, repeat the experience with other fruits and talk about the similarities and differences.
Earth Day reminds us to get in tune with nature and caring for our planet. At this developmental stage, take baby steps and enjoy every moment of connecting the familiar to new experiences.