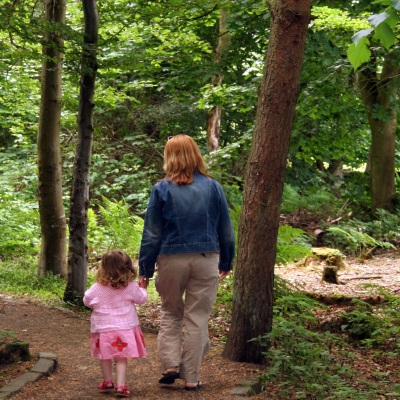 Between Earth Day (April 22) and Arbor Day (the last Friday of April), spring is a time of fascination with trees. As parents we should encourage our children to learn about trees, their care, and the impact they have on Earth. And, just because your child is still young doesn't mean you can't introduce them to trees and nature. Here's how to get started.
Do you have a favorite tree in your yard? Find a tree that can be observed from your window and visited by you and your child. Introduce your toddler to this tree and let it become a teaching tool and friend. Try to choose a tree friend that will go from a full tree with many shades of green leaves, to one that changes colors to yellow, orange, and red during the fall, and finally bare with a blank bark and empty branches during the winter months. Take photos of your tree during the different seasons.
On these beautiful spring days, spend time outdoors. Spread a blanket on the ground and together lay on your backs to watch the leaves move in the breeze. During fall and winter, you can watch the leaves fall to the ground. Give your toddler an empty cardboard toilet tube to use as a spy glass. Show him how to gaze through this tube to look closely at the tree — the leaves, limbs, bark, and possibly some flowers and fruit
During a nature walk, count the number of different trees you see. Don't think your toddler is too young to learn — they absorb more information than you know. Talk about the size of the trees, colors, and if the leaves are shaped the same. Look for evidence of animal, bird, and insect boarders. Point out nests, bug holes, and burrows. Look for squirrels playing from limb to limb. Taking nature walks is so educational for young children and teaches them to appreciate the beauty nature has to offer.
Take along a pail or bag during your walk and collect stones, pieces of bark, twigs, leaves, pods, and pine cones. Use these at a later time for crafting. Think about making tree critters. Play around with the nature finds to create a character with a head, body, arms and legs. An adult can glue this to a piece of cardboard using a glue gun. Do not use seeds, buttons, or anything small that a toddler could put into their mouth.
At home, think about starting a small tree nursery. Collect a few tree seeds, knowing some are easier to sprout than others. You may want to check with your local gardening shop. Think about maple seeds, acorns, seeds from oranges, grapefruit, and apples. I found that grapefruit seeds sprouted quickly in my area and had nice green glossy leaves. Plant the seeds in coffee cans or outdoor containers filled with potting soil. Tend to the watering together with your child and enjoy watching your seed sprout into a tiny tree. Spending time with nature teaches your youngster to become "green" and love the Earth we live on.