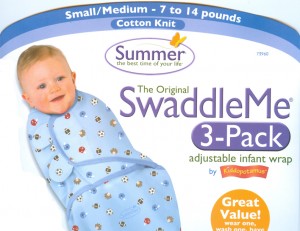 I still can remember going to the baby classes and watching the lady swaddle the baby doll.  It was a scary moment for me because I could not grasp the concept.  Diapers, bottles, baths nor anything else gave me even the smallest bead of sweat.  It was swaddling.
Thank you to Summer for helping me sleep at night.  Naturally, after my daughter was born I picked up the swaddling method.  However, there was nothing keeping her blanket held together.  For the most part the blanket method worked great until she started to get older and wiggle more.  It was no surprise to find her arms free after only a few weeks.
The SwaddleMe made the whole process easy and kept her securely warm.  It is so simple to use.  You place her legs in the pocket and fold the upper halves over the velcro patches.  In no time at all you are complete.
There are various cloths offered by Summer.  You can get thinner or thicker materials depending on your preference.  We bought the organic cotton for the warmer nights.  It was thinner material and would help her to stay just right.  There is fleece for the colder nights.  Both are great and work as advertised.
SwaddleMe's come in all sizes, and each size is adjustable to form to your child.  The sizes vary from newborn to six months.  These are perfect because most parents decide to stop swaddling after just a few months.
Whichever material or time period you choose to swaddle, choose SwaddleMe by Summer.  You will not be sorry and absolutely will love the ease of use.  My suggestion is to buy two of whatever one you choose.  That way when she messes one, you can put on the clean one while the other is being washed.
Summer Infant SwaddleMe has the Joe Lawrence Seal of Approval.  Check it out, and see if it deserves yours.