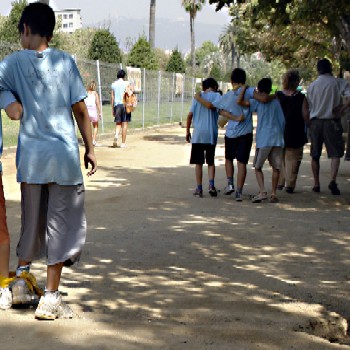 What should I tell my kids to do if they see someone being bullied at school? I don't want them jumping into fights, but I don't want them just to ignore it either, and I definitely don't want them standing and watching.
"Be sure to talk to the child about how they can be more than a bystander," say the experts at stopbullying.gov. However, they also say: "Remind children to only intervene if it feels safe to do so, and never use violence in order to help the person get away."
Some non-violent suggestions to help another child out of a bad situation:
Create a distraction. If no one is rewarding the child who is bullying by paying attention, the behavior may stop. Bystanders can help to focus the attention on something else.
A bystander can offer a way for the person being bullied to leave the scene by saying something like, "Mr. Smith needs to see you right now," or "Come on, we need you for our game."
The site also points out that, even if a kid can't stop bullying as it happens, they can support the victim by "simply being nice to them at another time" — in school or out.
Standing and watching encourages bullying, and it's right to teach kids not to do it.
For more tips, click here.