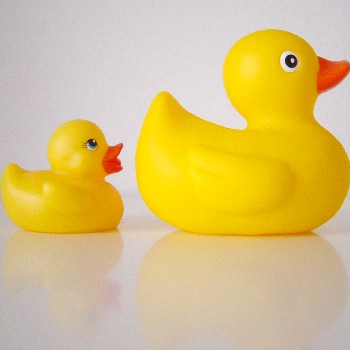 My four-year-old definitely has too many bath toys, but I'm not sure what to do about it. I'd like to take out only a few at a time, but as long as she's using all of them every night they never seem to be dry enough to put in a cupboard, so we keep them in a bin near the tub. We used to have one of those nets that you hang on the wall with suction cups, but it kept falling off.
(Note: Answering  this question for us is Shirley L. Moore, professional organizer, of  Toy Organizers Online.)
Keeping your toddlers' toys organized in the bathtub can seem like a hike up Mt. Everest! Somehow that one and only classic rubber duck has turned into a collection of boats, dolphins, pirates, balls, and even a basketball hoop! Your tub is now a No Wake zone due to the surplus of scattered bath toys. It is time to take back your tub and free yourself from stepping on that yellow submarine yet again!
Bath tub toy organization does depend on several variables: space, number of people using the tub, whether or not it is a tub with a shower, and the material the tub is made from. For all intents and purposes, the suggestions listed here will be for the standard tub and shower combination. This means most of the tubs will have a shower curtain which is a great place to start.
The shower curtain does not have to be just a water barrier. Look for a shower curtain with pockets. Utilize these pockets for storing toys, combs, toothbrushes, even shampoos and soaps! It is best to use a plastic or vinyl material that is clear so your child can see the contents. For water drainage, use a hole punch to make 1-2 holes in the pockets. Or better yet, try to find a shower curtain with mesh material for the pockets!
If you simply cannot part with your decorative shower curtain, try hanging a second shower rod on the wall opposite your shower curtain. Use curtain hooks to hang baskets on the rod and fill them with toys. The shower rod can be placed either just above the tub or higher. Your baskets will need either a handle or holes to place the hooks through. Water drainage comes with the territory if you find baskets with holes! Take this idea a step further using carabiners and colored baskets! Using carabiners will make the baskets removable. You will be surprised when you ask your toddler which colored basket she wants to play with and she exclaims, "THE RED ONE!" This is a great way to not only learn colors, but also learn a bit of structured play time.
For a simpler tub toy storage solution, try using a three-tiered fruit/plant hanger. This can easily hang from your shower curtain rod with the included hook. Though this does not make toy access easy for your child, it does provide a quick answer to where to put Mr. Rubber Ducky. And with the colander-like design, water simply drains out. Speaking of a colander, draining pasta is not its only use! A colander can also be used for storing bath toys.
There are also several tub toy storage products on the market today. Many of these come with suction cups that I personally have found cumbersome to use. Frog pods and ladybug pods, hammocks, mesh bags, all have suction cups. However, one such tub toy storage solution I have found is a bucket with a handle much like a pitcher that fits over the side of your tub. The bucket also has a hole on the bottom for water to drain. The downside is it could get in the way of other shower users and does not provide much storage room. Though still a useful idea, nonetheless.
Bathtime cleanup can be made lots of fun with the right tools. Your tub does not have to be a tidal wave of toys, either. Surf your way to the shore with these creative solutions for keeping your tub toys organized.
*Helpful hint: For keeping mold out of your rubber squirt toys, place a dab of hot glue over the hole to prevent water from settling inside!