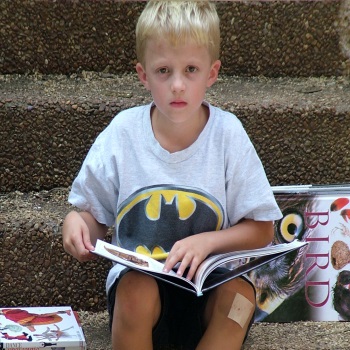 I want my preschoolers to be comfortable with books, but I also want them to take care of them. Too many of ours end up on the floor getting stepped on. What's the best way to store books so they're easy to take out and easy to put away, even for little kids?
"The more that you read, the more things you will know. The more that you learn, the more places you'll go." — Dr. Seuss
Books can open a child's mind to a sea of imagination! Though as their book collection grows, keeping those amazing stories organized and in place can be a challenge. Parents encourage their children to read, but if a child has to dig around through a pool of toys to find her book of choice, she is more likely to move on to another activity. So what is a parent to do?
Books need a place to call home and creating the perfect reading station or "book nook" is a great start. This can be either portable or stationary. Have your child get involved in the design process and she'll be more apt to keep her books organized. Once you have decided on a home for your child's books, then it is time to tackle how you will keep the books in place. This is easy to achieve if you remember these three key points: make their books attractive, make their books inviting, and make their books easily accessible.
For younger children and toddlers on the move, creating a portable reading station is optimal. This allows the books to follow the child. Along with the wide variety of portable bookcases, there are plenty of creative ideas for making your own portable book storage. Attach casters to a decorated crate and you are off on a cover-to-cover adventure! Find an old tool box to bring her stories wherever she goes. Make your own book wagon! Use dish drying racks or wash bins to hold coloring books and markers. Take simple dollar store baskets and create book baskets. Add hooks to hang them on the wall. Separating the books into individual baskets can help create a more simple reading time. Too many books for a toddler can be overwhelming. Have your young artist get involved and help decorate the basket or bin with her name to help personalize her books.
If you have too many books for individual baskets/bins, try utilizing a combination of storage ideas. Keep the books on a bookshelf. Then each day have your child pick several books from the shelf and place in her book basket! Throughout the day she can take her books with her wherever she goes. When she is done, she can take her book basket back to the bookshelf and put them away.
If a stationery book area works best for your young reader, create a cozy space personalized just for her! There are numerous stationary bookcases that will keep your books neat and tidy. For those that think outside the "case" use vinyl rain gutters, picture holders or a spice rack to make books easily accessible. Simple plastic crates stacked side by side with comfy pillows placed on top create a perfect reading bench. Don't forget the home and garden section that can offer up some creative book stands made from planters.
Some children prefer to read in bed. Creating storage pockets in a crib bumper pad allows access to joyous stories early in the morning. Who says books don't like to rest in a hammock? Double curtain rods and stylish fabric create the perfect hang-out for fairytales!
With such a vast array of storage ideas, you are sure to find the best fit for your storybook ending. By creating an attractive space that invites a child to come, sit, and easily choose a magical book, you unobtrusively teach her to keep her books in place so she will repeat the process again and again at her leisure. Make it fun! Make it easy! Be a bookworm!
**special tip: Using music and song speaks very well to young children. Create your own "clean-up" or "books-away" song when story time is over. This will help make putting their books away fun!