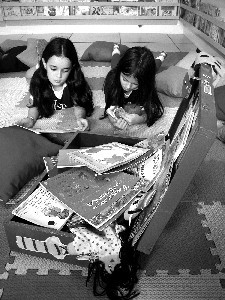 Both my kids like to read but hate to talk or write about books. If they like a book they don't want to "ruin" it by discussing it, and if it's a book assigned to them in school they have no interest in it. This makes English papers and book reports really hard to get finished. Any ideas?
Mrs. C., a veteran elementary teacher of 25 years, has the following advice:
Why don't you try asking your children what it is that makes a book appealing to them as a reader. As they share this with you, tell them they may be able to encourage others to read some of the good books that they have read by simply talking about the books to their friends. Tell them reading a good book is no different than viewing a good movie or playing a good sport or game. Usually, when one finds interest and enjoyment in something, it is really fun to share that with others. At this point, I as the parent would give examples of a couple of all time favorite books, and I would express why they were amongst your favorites — and perhaps even share a positive experience that you had with a book report assignment.
If the book reports that are assigned to your children allow flexibility and creativity, ask them how they could best show someone that the book that they read is worth reading. If they derived pleasure from the book, it is very likely that their some of their peers would, also — and if they share a good find with a friend, chances are their friend will in turn suggest books that they can read as well.
Depending on the age of your children, it will not hurt to point out to them that if they are in elementary school, they have many years ahead of book reports in many different forms, so suggest that you brainstorm together as a family ways that could make this task more inviting and exciting for everyone! Good luck!