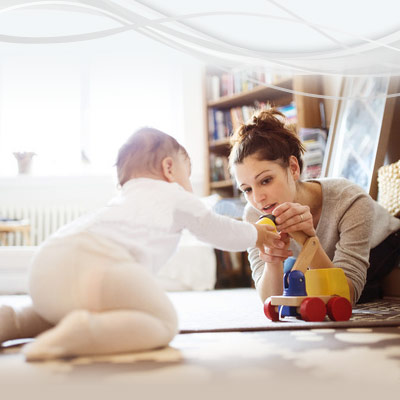 Play dates are informal get-togethers where parents and little ones meet for an afternoon (or morning) either at a park or rotating at a parent's home. These dates are beneficial for everyone involved — babies and toddlers have a chance to mingle with other children (some the same age along with older siblings during the summer months) while parents have the opportunity to socialize and talk shop with other parents. It's a great support system especially for stay-at-home parents.
Children learn by playing, and playgroups let them explore at their own pace, free from the sometimes rigid daycare restrictions. Often a play date is a child's first introduction to group socialization, and children get the opportunity to develop friendships. I like the fact that children play side-by-side and learn to get along with others (something that we try to teach as parents). I'm not saying that there won't be days of tantrums and fighting, but through these experiences of real life, young children learn to cooperate. And with older siblings in some play dates, the little ones pick up ideas to try to enhance their development.
Finding a playgroup in your area may take a little investigation. If you have a neighborhood group of stay-at-home moms, this task is easy. If your area is not full of children, you'll have to ask around to locate a group. Some may advertise on the Internet or Facebook. You might even want to start your own group. Here are a few tips to get you started.
Limit the size of your group to about five or six children. Too many kiddos create chaos and defeat the purpose of an intimate setting.
Set your time goal for about two hours for the toddler age group. And don't forget to schedule play dates around naps (if possible).
Carefully choose your location. If parents can't accommodate the children in their homes, opt for parks and indoor playgrounds. Also, if you meet in each other's homes, make sure the homeowner carries liability insurance. You can't be too careful these days!
Some other tips:
Have some duplicate toys (if possible). One riding toy won't cut it for a group of toddlers. Have each parent bring toys to the group or raise funds to purchase special playgroup materials.
Have at least once structured activity per session. Maybe a craft, story time, or group game.
Provide healthy snacks and juice. After a couple hours of play the youngsters need to refuel. Eating a snack together builds a sense of community.
Encourage toddlers to participate in clean-up time. Have some portable bins to collect the toys and a place where children can place them during this activity.
Whether your play date sessions are somewhat structured or carefree, large or small, just think of this activity as a way to introduce your children to new social situations and a chance for you to meet new friends. Parent to parent conversations are so therapeutic!