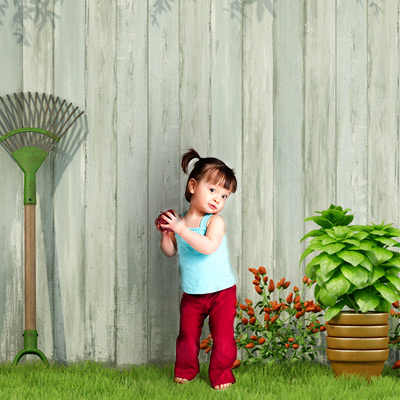 Gardeners are not born with "green thumbs" as legend says. You have to learn about plants and how they grow first. You and your toddler can engage in some fun gardening activities. Stimulate interest by reading stories about gardens, and participate in these projects that will let your tot get his hands dirty and appreciate nature in a simple form.
Your child can learn responsibility by growing and caring for a small plant. Invite your tot to draw a face, minus the hair, on a disposable plastic cup with a marker. Challenge her to draw eyes, nose, and a mouth. When the face is complete, help your child fill the cup with potting soil. Together sprinkle grass seed on top of the dirt and add a small amount of water. Soon the "cup face" will be growing green hair on the top of its head. Your toddler may even want to give the plant a haircut using safety scissors and then watch the grassy hair grow long again.
During indoor art, create veggie placemats to use during the gardening season. Slice a green pepper, carrot, orange or apple, and place them on paper towels to dry overnight. Next, make a "stamp pad" by laying a folded paper towel in a Styrofoam produce tray. Pour a little liquid, non-toxic poster paint into the tray, and dip the slices into the paint. Hand-on-hand, help your toddler print on construction paper. When dry, cover these placemats with clear adhesive paper to make the mats durable and easy to clean between meals.
When teaching about gardening a first question may be, "Where do seeds come from?" Slice open oranges, apples, and lemons to show children the seeds inside that will grow another plant. Collect gardening seeds of different kinds and sizes (from produce or packages) to glue on tag board squares, circles, and triangles to create a collage. Explain how these seeds when planted in a container or a garden plot will grow into fruits and vegetables. Encourage your toddler to spread glue first before adding the seeds in a design of their choice. Why not take a few seeds and plant them into the cups of an egg carton? Mark this with your child's name, such as Susi's Garden. Sprinkle the seeds with water and place it into a sunny window or outdoors. Your little nature lover will be so excited to see her garden grow each day. When the seedlings grow tall enough, replant them in larger pots or in a small plotted garden.
Relax with growing books while you and your little munchkin watch your plants grow. Here are a few of my favorite titles.
The Carrot Seed by Ruth Krauss
The Tiny Seed by Eric Carle
From Seed to Plant by Gail Gibbons
The Little Gardener by Jan Gerardi
Planting a Rainbow by Lois Ehlert
The Curious Garden by Peter Brown
Grow It! By Georgie Birkett
Watching a seed unfold to send a new plant into the world is a wondrous sight for young children. When you enjoy it with them, the experience becomes richer for all.