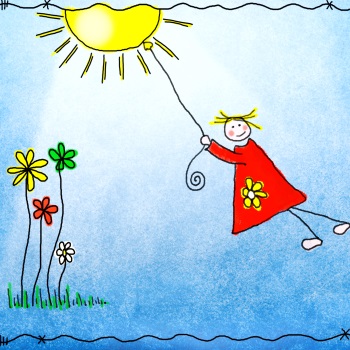 Summer means spending time outside playing under the summer sun. Even though this is a fun activity, the summer sun is also very brutal on skin. A sunburn is very painful for toddlers who already have a hard time expressing their feelings. This means more meltdowns and less sleep for you as you try to soothe them. Keeping them protected from the sun is simple if you follow some of these tips.
Keep a bottle of sunscreen in your car. This way, you will always have some to slather on if your toddler is going to the park, the playground or the beach. You will have it on hand if you forgot to pack some. Be careful to store the bottle out of the sunlight because the car can get hot and the sunscreen can deteriorate over time. You also want to store it in a place where your toddler can't get to it.
Apply it before they go to daycare. Your toddler will likely have some playground time outdoors. Make sure they are protected especially if your toddler has fair skin that burns easily. If your daycare has a field trip planned, make sure to pack extra or slather it on really thick. If the daycare needs permission to apply extra sunscreen, then take the time to find out or volunteer that day so you can reapply it yourself.
If you are deciding between the spray and the cream, it is important to consider which one your toddler will like the best. If they have issues with a cold spray, stick to the cream even though it takes a little longer to apply. If you do go after the spray, you will still have to apply it on their faces with your hand. Be aware that some of the sunscreen will absorb into your hand. This means that you probably aren't putting on as much as you think you are with the spray. So, grab a bottle of cream as well.
While SPF factor is a good thing, make sure to choose a brand that protects against both UV rays. This will ensure that your toddler is getting adequate protection. Also, take into consideration the ingredients and any allergies before buying.
Make sure to reapply it after an hour or so. Sweat, water and sand can all rub off that layer of protection. You will need to reapply it frequently especially if you have a very busy toddler.
Stick to the shade during the hottest parts of the day. This is an excellent time for them to take a nap after a busy morning. If you are going to be spending all day at the beach, make sure to provide some shade with a canopy or umbrella. Remember, the summer sun is most brutal during lunchtime.
The summer sun can easily burn a toddler's skin. You need to make sure that they have adequate protection. While this is important for the summer, they need protection for all the seasons.
(Image: Marja Flick-Buijs)