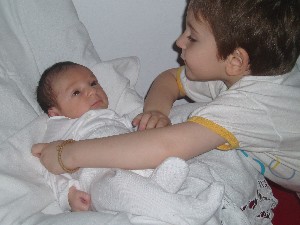 The world of a toddler centers directly around them. So, when a new baby makes an appearance, your toddler is not always going to accept this newest demand on your attention. This often means that the demands for attention from your toddler will increase. Meaning your toddler may have more temper tantrums, general screaming, and getting into more trouble.
It is important to start the preparations well before the baby comes. Start with a very simple explanation stating that there is going to be a new person in the house. Stress that this new little person won't be able to play and will cry a lot.
Before the new baby comes is the time you want to tackle all of the big kid milestones that comes with the transition out of the baby stage. Now is the time to transition to the new bigger bed, getting them used to daycare, putting them into their own room to sleep, or potty training. You may want to make small adjustments to the routine to get them used to a new schedule.
Get your toddler involved with preparing for the new baby by allowing them to lay out diapers or put the box of wet wipes on the shelf. Additionally, plan a few things that they can do to help out such as holding the baby powder or handing you a diaper.
Let them carry around a doll that they can dress and  diaper. The doll is a way for them to imitate the actions involved with taking care of a baby. This makes them feel like they are a part of the process, which will reduce the stress on them.
Introduce the new things that the baby will have to your toddler before the new baby arrives. Let them smell and touch some of things that don't need to be sterile. It will satisfy their curiosity about the new items so they are more likely to leave them alone.
Finally, fit some time for your toddler into the new schedule. Plan an activity that you can do alone during baby's nap-time such as coloring a picture. Giving them some attention at a set time will help during the times when baby needs your full focus.
A new baby is a big change for your toddler. If you get them prepared for what to expect, then your toddler will more likely accept the new addition.