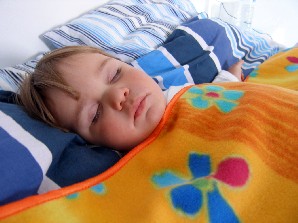 Toddlers don't typically do well when their bedtime routine changes especially when a new bed is involved. Whether it is going on a camping trip, going on a vacation, or spending the night with the grandparents, toddlers might have a hard time going to sleep in a different bed. Here are a few tips to make the transition to sleep much better for your toddler.
Make sure to pack their favorite sleepy-time item such as a teddy bear, blanket or anything that makes them feel safe. This will give your toddler a little taste of what they are used to. Familiar items can help soothe your toddler at nighttime. If you forget to pack the items, it may be worth your time to pick up a similar comfort item at the store to help with the soothing process.
Try to keep the same bedtime routine that your toddler has at home. If it is bath, story, and sleep at a certain time of night, then do the same order at the same time in the new environment. Keeping the routine the same will help get them in the mood to sleep. Make certain to tell grandparents the bedtime routine so that they are familiar with routine to make bedtime much easier on the whole household.
If you are still potty-training and your toddler hasn't quite grasped the nighttime routine, pack the extra pull-ups. It will provide an extra measure of security for sleeping in a new bed. Otherwise, pack a waterproof sheeting to put under the sheets in case of an accident. Your toddler might not be aware of where the bathroom is in a new place especially after they have fallen asleep in the new bed.
Don't forget to bring the night light. It is especially important that toddlers can see at night so they don't get as scared if they wake up in the middle of the night. It will also help them locate the bathroom for a night time potty run.
Even all of these tips won't guarantee a successful night of sleep in a new bed. The best thing that you can do for your toddler is to get as close to as you can to what they are used to.