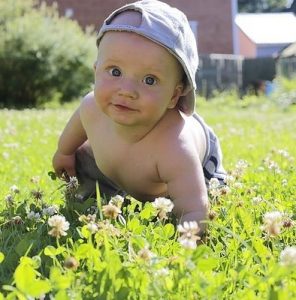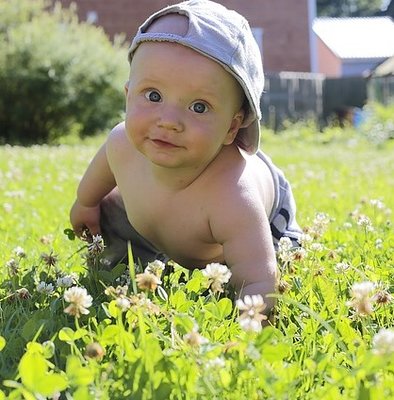 The temperatures are soaring, and parents should take care to keep babies healthy and cool during the summer season. We think of summer as fun in the sun, but potential dangers lurk, so here are a few things to think about when out and about during these hot months.
Since a baby's skin is thin and delicate, make sure to avoid direct sunlight for extended periods during the sun's peak hours from 10 a.m. to 4 p.m. and always find shade whenever possible. According to the American Academy of Pediatrics, babies younger than six months should only wear a small amount of sunscreen to exposed skin. Older babies and toddlers should have sunscreen applied more liberally and repeated about every two hours. Parents should use a product made especially for children and at least SPF 15.
When dressing your little one, think cotton. Choose loose-fitting, light-colored, comfortable baby clothing. Now, it seems natural to wear sundresses and sleeveless tops, but experts say babies should wear long sleeves and pants to avoid sun damage. I do worry about the heat these clothes harbor, so keep outdoor outings to a minimum. Also, keep a baby's eyes protected with a wide-brimmed hat and sunglasses. Yes, they make sunglasses for the youngest kiddos that offer 99-100% UV protection.
The summer heat can cause extra perspiration, which can lead to heat rash and skin infections. The best way to keep your baby cool is with extra baths that keep them clean and fresh. And, since we are bathing more, make sure to moisturize as well.
Hydration is so important. Babies need at least 50 percent more liquids in the summer than usual. Warning signs of dehydration include a flushed face, rapid breathing, restlessness, and skin that is warm to the touch. You may also find that your baby may have drier diapers and darker and more concentrated urine. Offering water is necessary. Older babies and toddlers may like coconut water, fruit juice, and cool milkshakes on a hot summer day.
Let your baby and toddler have some water fun and cool off by placing her in her baby bathtub or baby pool with some plastic baby toys. Just make sure to never leave your youngster unattended because little tykes can drown in just inches of water. Make sure to monitor your toddler's playtime and have her rest every 10 minutes, especially during high exertion activity.
And unfortunately this time of year also brings tragic news of young children being left in hot cars. Never leave a child in a parked car in the heat for even a few minutes. They have a limited ability to perspire effectively and can become overheated quickly, causing their temperature to rise dangerously.
Remember a rule of thumb with a pre-verbal child is to think how you feel in the heat. If you find you are taking sips from your water bottle, chances are your child is thirsty, too. Offer a bottle or sippy cup often. And, if you suspect your child is dehydrated, check with your pediatrician for advice on administering electrolyte solutions.