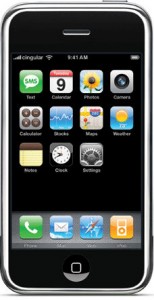 Many of us have jobs that require us to travel.  Maybe we leave for just a weekend, and sometimes it is much longer.  It is torturous to leave a little one behind while they are learning and growing up so quickly.  There are a few simple things you can do to stay in touch right from your phone.
Being a military member in a high demand career field, I am constantly working very long hours and called to leave home quite often.  In fact, I am writing this article from the road.  Thankfully, iPhone has been here to help me watch my girl play and grow.
My wife and I both have iPhone 4's through Verizon and have taken advantage of the "Facetime" feature built into the phone allowing for video chatting.  She chases our little monkey around the house, and I can watch her play and talk to her.  I love when she sees me on the phone and gets excited.  Sure, it is not like being there, but it is the next best thing.
The great thing about video chatting through a cell phone is we are able to be on the move.  It is a daunting task to get a 16 month old to sit on your lap while chatting on a webcam.  She is all about it for a few minutes then it is play time.  It usually turns into a stress-filled event for all involved.
The only downfall to the iPhone's Facetime feature is that you have to be on a Wi-Fi connection for it to work.  However, fear not, the geniuses who create apps have swooped in to save the day.  Tango is a free app through iTunes which allows you to video chat over the normal 3G cellular connection.  The only caveat is both people require the program.
Unfortunately, we have to go away from our mini-me's occasionally.  There is no getting around that if we want to keep our jobs; however, we can take full advantage of technology to fill that void.