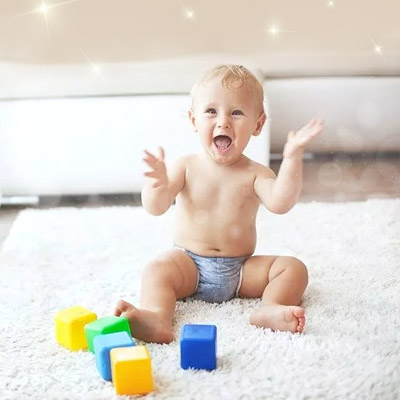 If you are the proud parent of toddler aged children, you undoubtedly have a lot going on in addition to a ton of angst about your little ones as they gain more mobility around the house. This can be an extremely happy but worrisome time as you toddlers may be crawling, and learning how to walk.
The new-found freedom and mobility can pose dangers to children especially in places like the kitchen, bathrooms and washrooms where they may have access to cleaning products that contain harsh chemicals.
You will need to child proof your home to keep your toddlers safe from any harm that these products could pose to them. Here's a few tips on how you can child proof your kitchen.
Safety Locks & Intercoms
You will want to install safety locks on all your kitchen cabinets especially the lower level cabinets that you toddler may be able to access with ease. Child safety locks will prevent your toddlers from being able to push or pull the cabinets open keeping them away from any of the kitchen or home cleaning products that could cause harm
If you live in the greater London area, you can hire in a London locksmith to take care of assessing your kitchen, your bathrooms, and any other room that you feel you need to child proof. You will find a great deal of options that will suit your safety needs as well as your budget.
Setting up an intercom system in your home is also a great way to be able to monitor your child's bedroom while he or she is sleeping or taking an afternoon nap. You can also set up an intercom system in your child's playroom or any other room in your home that you feel would be beneficial.
Outlet Covers & Safety Gates
You will also want to ensure that you have covered all the electrical outlets in your home. Toddlers are extremely quick and naturally inquisitive. You can find many options for covering your outlets and ensuring that you are keeping your children safe from possible electric shock or worse yet, sticking any objects into the outlets that would put them into harm's way.
Another great way to keep your toddlers out of harm's way is to utilize safety gates. Safety gates are perfect for keeping your toddlers out of the kitchen while you are preparing food. Gates will keep your toddlers out of harm's way while you are engaged in food preparation, serving, and handling hot objects like pots, pans and dishes.
Statistically, the kitchen is the most accident prone room in the home and keeping your toddlers away from possible danger while operating in this space will greatly reduce their risk of injury.
Another great way of reducing possible risk is to get rid of anything in the kitchen that you don't use and that could cause harm in a toddler's hands. Clean out old kitchen utensils, and junk drawers. The less items that your toddler can get to that could potentially be harmful, the better.
Brought to you by our friend, Carol.