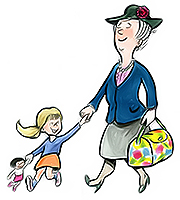 Finding a nanny for your child is easy; it is finding a good nanny who will take good care of your child that's difficult. You can put up an ad, then screen applicants, or you can go directly to an agency. If you decide to hire a nanny yourself, make sure do you a careful background check before letting him/her into the house. Look into her criminal record and ask for at least two references to verify her credentials. Remember, you will be entrusting your house as well as the personal safety of your child to the nanny. Be thorough in your investigation.
On the other hand, choosing an agency is convenient, and it will save a lot of time. However, it can be costly as well. Always select an agency that has a good reputation. Try not to do business with startups unless you know the owner personally. There is nothing wrong with using a new company, but it is better not to take the risk especially as your child is involved.
Live-in or Live-out
Even before you hire a nanny, you should have determined what living arrangement is appropriate for your needs. For example, if you have an unpredictable work schedule, it is better to have someone live-in so the needs of your family can be met. Live-in nannies typically receive room & board, food, and weekly salaries. But getting a reliable live-in nanny requires a drastic change in your lifestyle because the whole family will share their lives with another person. The nanny becomes more than just an employee; he/she becomes part of the family.

Salary Considerations
As was mentioned earlier, the family will need to provide board & lodging, food, and weekly salary to the nanny. However, there are other expenses involved, including healthcare benefits. Hiring a live-in nanny can be especially expensive if you hire someone with educational credentials. In addition, if you include the nanny in family outings, you will pay for the expenses.