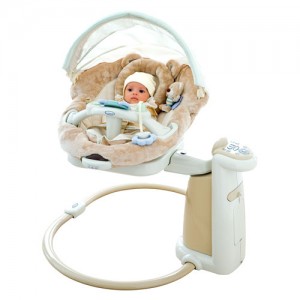 My last article for this site was titled, I NEED that! I have discovered one luxury item we have that we actually could not live without.† You guessed it, the Graco Sweetpeace Soothing Center.
This beauty is a modern day design for the traditional swing.† Instead of the back and forth motion offered in the old styles, the Sweetpeace allows for multiple swinging sensations for your baby.† You can face the seat outwards and do a side to side motion.† The seat also can be turned horizontally in either direction to get the back and forth feel.† Basically, your baby can have enjoy whatever motion he or she likes the best.
Speaking of seats, parents with light sleeping babies will love this.† If you have a Graco travel system car seat, you can place that seat right into the swing.† This is awesome when you just get home and your baby is counting sheep because of the car ride.† Many babies begin to wake up when they are being jostled from their car seat and placed into the swing.† You can avoid that altogether and enjoy a few more moments of silence.
Once you have baby in the seat and†in the desired position, you have some more options.† There are six relaxing speeds for her soothing needs.† Number 1 is nice and slow, and number 6 is very fast for a newborn.† Once your baby is a bit heavier it will be a good option.
The speed is set and now time for the music.† There is a recorded heartbeat, which helps bring back the feelings from the womb.† For the classical parents, there are also some classical numbers to intrigue the young, developing mind.† Next, there is even an option for some mobile-style music.† Finally, your baby now has an excuse to get an MP3 player.† There is even a hookup for an iPod.
There isn't much†the Graco Sweetpeace Soothing Center doesn't offer to the parent or baby.† From multiple seating options to iPods, this seat is a winner.† Maybe the next version will have†a Starbuck's bottle warmer.