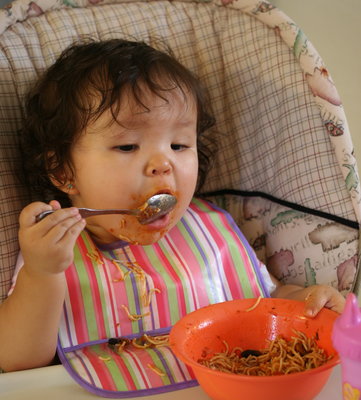 By the end of the day, both parents and young children are tired, hungry, and possibly cranky – not the best scenario for stress-free dining. First of all most babies are usually on a demand feeding cycle so they may have already been fed and sleeping when the family is ready to dine. Toddlers have short attention spans so your dinner must be short and to the point. But, there are a variety of ways to engage your little ones at the dining table to mingle and enjoy family bonding.
Bring your baby to the dining table to watch you eat and spend time together. He may have already eaten his baby food, but allow him to chew or gum a bagel or teething biscuit in your company. As the baby gets older and has achieved finger dexterity, sprinkle his high chair tray with cereal or small pieces of cooked food that he can pick up and eat. Now, at this point your only course of action is to minimize the mess. Placing the high chair on top of a plastic tablecloth or sheets of newspaper will save your floor from disaster and less clean-up time for you.
After your baby has finished finger foods, try to amuse her with some of these activities to allow you to finish your meal. Babies engross themselves with small objects such as one or two ice cubes on the tray, pieces of cooked spaghetti to twirl around, or a bright, wet sponge to pat or poke. It's these little things that hopefully will buy you some time to enjoy your food and maybe a well-deserved glass of wine.
Toddlers are actually a mini-me. They like to mimic the parent and do things they do. So, a family dinner is perfect for them to observe and role-play. Begin with some cute plastic dinnerware. What child wouldn't want to eat on a sectioned dish adorned with their favorite character? Add child-sized silverware and cup and their place at the table is set. By the time your youngster is two to three years old, a booster chair at the main table will be perfect. At this age, be sure the child's menu resembles yours – it's time to experiment with new tastes and textures.
As an antidote to ho-hum meals, present dinner in a new location. How about a picnic on a beach towel on the porch or a Japanese-style dinner on floor cushions around a low table? Or, what about a tea party dinner along side your toddler's stuffed animals and dolls? These special meals are not only fun, but also a casual way to enjoy each other's company and bond during a family dinner. Remember, your children will not remain small for too long, so savor the memories each day brings.