My family is really big on playing board games. It is definitely the best way for us to get together and interact, a completely different experience from watching a movie together. Maybe there is someone†in your the family who claims to hate board games, but it might be because he or she hasn't played the right ones. Contrary to what it may seem like, there are more board games out there besides the standards: Life, Clue, checkers, and Monopoly. Imagine!
It can be an unusually difficult process to buy a board game that is outside of the familiar zone. It's hard to know, if you've never played it before, if†the game†worth the investment. BoardGameRatings.com is a very reliable†Website for just that purpose. Recently I was looking to buy a new board game, and this is the Site I came across. I looked at their picks for the best game, and at the top of the list was my favorite game of all time: Settlers of Catan. Right away, this site gained some trust from me.
I took a look at what kind of information they provided, and the game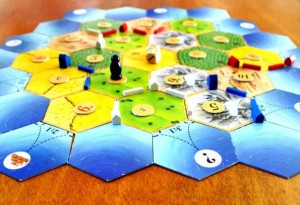 descriptions†are extremely thorough. They provide ratings for†the amount of luck, strategy,†knowledge, creativity, interaction, and complexity involved. They were spot-on for Settlers of Catan. Additionally,†there are user comments and ratings so you know the opinions just aren't coming from a biased company.
Board games can be expensive, but when you find one that your family enjoys, they are more than worth it. My family first played Settlers of Catan in Holland, and we brought a version back to America. There is, of course, an English version, but we stuck with the Dutch version. Since we love it so much, we've taught over a dozen of our friends enough Dutch so they can play too! We also bought an expansion pack that increases the original game from 4 to 6 players.