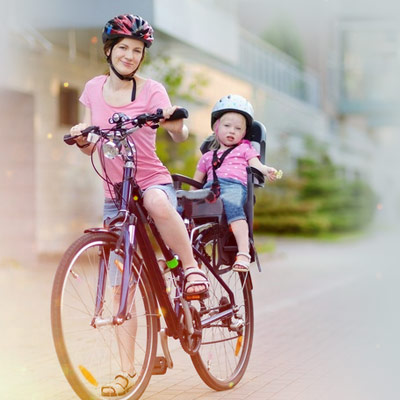 With a little one, aged two or younger, you obviously know that she can't pedal her own bike, or at least well enough to keep up with a family bike ride. However, at what age can you bring your infant or toddler along as a passenger? Based on research from the American Academy of Pediatrics, children under the age of 12 months should not be placed in a bike trailer or rear-mounted bike seat.
As a parent, you may wonder why you can't use the bike trailer. Your baby can recline and enjoy a nice ride. The problem lies in another piece of safety- the helmet. Your child, regardless to age, needs to wear a bike helmet whenever partaking in a bike ride. Even in a bike trailer. Before the age of 12 months, your infant doesn't have the neck strength to support a helmet.
Once your little one reaches the one year old milestone, it's time to get geared and ready for a bike ride! Of course, you need to purchase an appropriately sized and approved helmet. Then it's time to consider a few other factors before heading out.
Make your first bike ride short. This will be a new experience, and your little one may not enjoy it as much as you hope. If he starts to cry, give it another minute or two. If things don't improve, it's time to head home.
Dress your toddler appropriately. She won't be pedaling, so she may need an additional layer of clothing, especially if she is sitting in a rear-mounted bike seat. That lovely breeze may make her chilly.
Pick the time of day that is best for your toddler. Is he usually cranky in the late afternoon? Don't take that first ride now. Maybe late morning or just after dinner would be better for your little guy.
Be sure you're up to speed on your biking skills. If you've never biked with a seat or trailer on your bike, you want to make your first trip with this new gear without your child. Get used to the new feel of your bike before adding precious cargo.
Once you've established that your little enjoys bike rides, the world is yours to explore. Trips to the park or a friend's house can be made via bicycle. Pack a picnic and diaper bag essentials, and you now have an eco-friendly way to travel. Now when your toddler get to enjoy the fresh air, you'll get a little exercise, too!