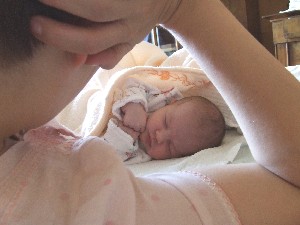 Your bundle of joy, be it a boy or a girl, has arrived. This precious package promises to be the best gift you've ever received. You'll watch his or her firsts, and you'll encourage exploration, learning, and love.  Get ready – you are officially a mom or dad!
Although being the parent of a newborn can feel overwhelming, it helps to listen to the advice of others who have already experienced this tremendous challenge.  You may not choose to use all of the advice offered, yet you may find some really helpful.
Last week I had the chance to ask many parents of young children what one piece of advice they would give to others.  Some of the responses I received were funny, some were heartfelt, and some were practical.
Read on to see what nuggets of information I collected:
1.  Take Photographs
When it comes to taking pictures of your baby, take a lot…and then take some more during the first year of life.  If you think about it, during these short 12 months, your child will go from being completely dependent, to taking his or her first steps.  Don't let a month go by when you don't document each milestone.  With the advent of digital photography, it has never been easier to create a pictorial of your child's first year.
2.  Enjoy the Experience
Basically, everyone I talked to advised that new parents take time to enjoy the sensory experience of caring for a newborn.  Sometimes fears of doing "the right thing" take away from the simple joy of adding a new family member. Even though you are exhausted, take time to burn the image of your sleeping baby into your memory, and strive to remember how his or her little body fits perfectly in your arms.  Years later you will cherish the memory of how your baby smelled after a bath or how velvety soft his or her skin felt.
3.  Prioritize
Before baby arrives, couples have time to spend with friends and family.  They may also enjoy specific hobbies, such as going to concerts, visiting art galleries, or even weekly bowling leagues.  Once you become a parent, priorities change.  Maybe you won't be able to go with your friends boating on the river, or you might need to miss the "girls" weekend this year, but that doesn't mean you will never do these things again.  Right now, baby needs to be number one.  These months will go by quickly, and you will soon be able to resume many of the activities you enjoyed before you became a mom or dad.  And in the same vein, understand that the housework and laundry may have to wait – baby is your most important "chore."
4.  Accept Help
New parents can be so excited, that they overdo it in the first few weeks…ending up exhausted.  If you have friends or family who offer to help, take it!  Something as simple as picking up some items at the grocery store can lessen your burden tremendously.