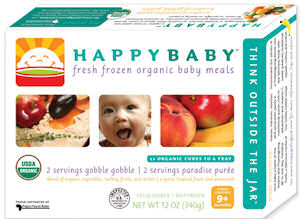 My beautiful little girl is now 6 and a half months old!† She is such an amazing person filled with tons of personality.† It is great to watch her grow, and I only want the best for her.† We all know children need nutrition to develop into who they are meant to be.† We found a great first food that is healthy and delicious.
We started her on solids about a month ago.† First was rice cereal and then shortly after came the stage one foods from Gerber.† She took right to them, and we were pleased with the experience.† Then my wife found a really great product from Dr. Sears.† He is a name we trust when it comes to children.† (Really quick reason, we thoroughly researched the lack of studies behind the vaccines required today for babies, and his book was a major tool for us.)
Back on track.† Dr. Sears has a food line out called Happy Baby, and it is all natural.† The fruits and vegetables are prepared and then frozen to preserve the nutrients and taste.† Our Gerber foods require preservatives, and we are not big fans on giving her anything she doesn't need.
His foods come in cubes like ice cubes in a tray.† You simply run some warm water over the cube to loosen it and take it out of the package.† Then we heat it in the microwave or bowl of warm water until it is just right.† Each food actually tastes just like the vegetable or fruit.
The peas taste like they are garden fresh, etc.† Gerber's also taste good, but there is no comparison as to which product is fresher.† My daughter seems to love his stuff better, too.† Gerber carrots don't sit well with her, while the Happy Baby carrots present no issues.
Look into Dr. Sears' foods, and you won't be sorry.† The prices are even close to the Gerber products.