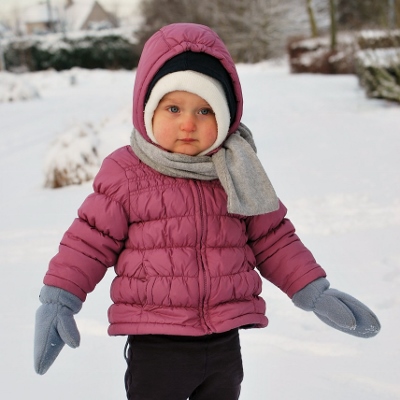 Every season has its own safety issues when it comes to young children. Let's look at winter in this article for the youngest kiddies. You can't stay indoors the entire winter season as cabin fever will really get you down, but you need to be aware of some of the safety hazards that cold weather and snow can have on your child. Winter can be fun, especially for toddlers, so make this your safest winter yet with these tips.
Go for layers when you dress your youngster for cold weather. Several thin layers of wool or synthetics are better than one big, thick coat. Thermal bodysuits are a good pick for retaining body heat in babies. Toddlers will need more articles of clothing for an outdoor jaunt than an infant. Again, think layers including a turtleneck shirt, sweater, pants, warm socks, hat, gloves or mittens, and an outer jacket. Wow, that's a lot, but the temperatures have been quite wicked this season. In case of snow, think water-resistant boots. Make sure to tuck pant legs inside the boots to keep the wet snow out.
Prevent chapped skin. Apply a thin layer of petroleum jelly to the exposed parts of your child's face, the nose, lips, and chin.
Watch out for slipping and sliding on ice. You need to enforce the "walk, don't run" on sidewalks, walkways, driveways, or anywhere there may be icy patches. For precaution, keep walks shoveled and use rock salt or sand to improve the traction.
Keep an eye on the clock when outdoors. Set a reasonable time limit for outdoor play. The same goes for taking your infant for a walk. If the temperature drops well below 40-degrees it may be best to keep young infants indoors. Babies lose their body heat much quicker than older children. After playtime, take off the outdoor gear inside and hang them to dry. Warm up the children's tummy with some hot cocoa or milk, warm soup, or soothing oatmeal.
Other ways to warm the body is to tell the children to jump and wiggle their body to increase blood supply to their hands and feet. Give hugs to warm little ones body to body.
Fight frostbite as little fingers and toes can be at high risk in cold temperatures. If your youngster complains of numbness or pain in his/her extremities or if the skin looks grayish call your pediatrician for further instructions.
Indoor safety is important too. Fireplaces are intriguing to babies and toddlers due to the bright colors and flames. Make sure to keep your youngsters away from this area and use a fire-resistant screen to keep sparks from flying near your child. Even the hearth is dangerous with its sharp corners and a hard stone surface. If possible, try to gate off this area in your home.
Well, the groundhog said six more weeks of winter, but as we all know, cold weather and snow can linger well into early spring. Enjoy your outings, but err on caution to stay warm and stay safe!