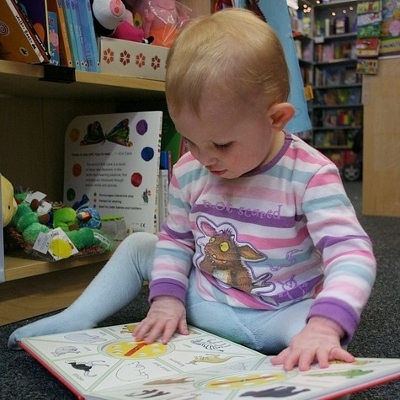 Reading is not a natural process that just happens, it needs to be learned. Since children must have rich experiences with both spoken and written language at an early age, I suggest engaging in reading books. Looking at development, babies listen to the sound of people speaking around them and then they try to copy what they hear. Usually by the age of 18 months, children can understand familiar words and use some of these words one at a time. Then they grow into sentences. A toddler's vocabulary grows as adults speak and read to them. Help your little ones get ready to read by providing an assortment of books and begin a storytime in your home. Here are a few of my favorites.
Babies and young toddlers handle board books the best. They are made of heavy cardboard and usually small in size. Now, I'm not saying that they can't be mouthed and chewed upon, but most now have a plasticized coating that makes them easy to wipe and clean. Here are three books that are really enjoyable.
I Like Toys by Lorena Siminovich is a touch-and-feel board book. Its story pages are based upon shapes and the toys that are related. For example, the page about circles shows a ball, yo-yo and a car. The car has circular tires that feel like rubber. The book covers triangles, squares and rectangles too, with each page containing a touch product. This book is bright, colorful and full of toys that are familiar to young children.
Bears on Chairs by Shirley Parenteau is such a sweet story of four little pastel colored bears and four chairs. Now, everything is fine until the brown bear comes to visit. Where will he sit? Let's see how the little bears use their thinking skills to make room for one more bear. It's a wonderful story that teaches about sharing at this young age.
Flip, Flap, Fly! By Phyllis Root is a cute book with catchy rhymes. Mama animals and their babies encounter outdoor adventures and see other animals. It all ends with a human mother and her baby child sharing a kiss. This book will teach your toddler that there are babies everywhere.
We know that toddlers love animals and what better way to learn how to count than with counting their favorite animal friends. From one giraffe to 10 swimming fish, your child will love One Spotted Giraffe by Petr Horacek. This book not only shows animals to count on each page, but also has flaps to open and up pops a numeral. This teaches the child one-to-one correspondence and visualization of the numeral as well.
Playbook Farm by Corina Fletcher is a pop-up book and play mat in one. The book has an accordion style structure and after you read about the animals on the farm, you can lay the book mat on the floor and pretend to be farmers. Place and move the animal and tractor pieces that are included together on the mat for interactive play. What fun!