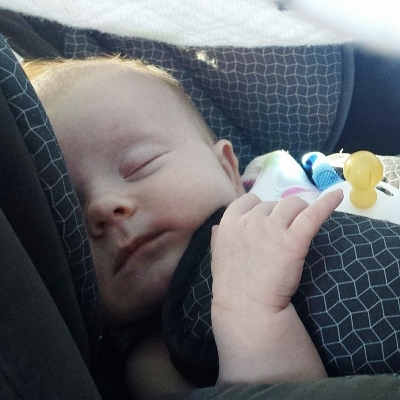 With the holiday season well underway, you may be looking at a ton of drive time with your infant in tow. Driving long distances with an infant can be safe and stress free by taking the proper precautions. The time you take readying the car and planning your route will pay off in the end. Here are a few things to consider before you head out.
Seek Car Seat Fit Check
With car seat designs and regulations changing so often, there is a chance your infant's seat is not correctly placed and secured. You can have the car seat's fit and function checked at your local hospital or fire station. To acquire a complete list of testing stations, call 1-866-SEAT-CHECK. Your testing official will check the LATCH straps and buckles, seat location and fitment.
Pack a First Aid Kit
You will need to have a first aid kit on hand to utilize in case of injuries or illness on your trip. With an infant along for the ride, you should include fever medications, nasal aspirator, nail clippers, thermometer, tweezers and cotton swabs, in addition to the normal care items you would find in a first aid kit.
Consider packing extra water and formula, if you use it, in the back of your vehicle in case of breakdowns or other unexpected stops. A space blanket and extra clothes are also a good idea to bring along. Tuck a sheet with your information plus emergency contact numbers, hospital locations and your pediatrician's contact numbers into the first aid kit.
Put Loose Items In Cargo Area
In the event of a crash, loose items can fling around and hit the occupants quite violently. Secure all of your belongings in the cargo area of your vehicle to prevent this situation. You should look under the seats and along the edges of the floorboards for items hiding from plain view. If your vehicle has an open hatch area, consider picking up a cargo net to string across the front edge.
Plan Frequent Stops
Although infants sleep for long stretches of time, road trips can disrupt their system and throw the established nap schedule off kilter. Upon waking up from a nap, your infant may be ready to eat and be held. You can plan for these break periods by working frequent stops into your itinerary. Consider your infant's disposition and schedule to find the perfect intervals for your family. You can look up monuments and other interesting road trip destinations to make the most of these breaks.
Sit In Back With Baby
If you are riding with another adult, take turns sitting in back with the baby. You can wipe up spit up, provide comfort and help entertain your baby while sitting in the backseat. Remember not to feed your infant in the car, however, as it is considered a choking hazard. If you cannot ride next to your infant, you can set up a mirror that will allow you to peek in on him or her throughout the ride.