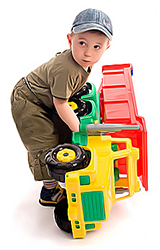 Little children are fascinated with cars, trucks, and motor bikes. My little son loves motor vehicles, anything that has an engine and wheels surely will get his attention. Every time he sees a truck he's filled with awe. The bigger a truck is and the more wheels it has, the more attractive it is to him. Every time we travel he is always on the lookout for trucks and cars. He has a comment for every truck or car that we encounter on the road. "Wow! A yellow truck with so many wheels," he told me yesterday with eyes round with fascination for the big ten-wheeler truck that had just passed by.
As a parent, I do my best to discover the things that are of interest to my child and use them as springboard for his learning. A few months ago he was introduced to the idea of going to school because of a school bus that we saw picking up children. He asked me what kind of "truck" it was. I explained to him that it was not a truck but a bus. "A bus?" he asked? "Yes, a bus. It is different from a truck. A truck carries big and heavy things, whereas a bus carries people, like children who are going to school," I told him.
Of course, that was the start of a long conversation between my three year old son and me about buses and schools and school children and teachers and books and everything good about going to school. He got excited about the idea of going to school and asked me if he can start schooling. I explained to him that it is too early for him to start schooling. "Maybe next year when you are already four years old you can start schooling," I told him. He agreed with me, but the idea of going to school stayed with him for weeks.
If we use the things that interest our children to start a conversation or spend time together, we can show them that their interests are important to us. This helps make learning fun for both parent and children.